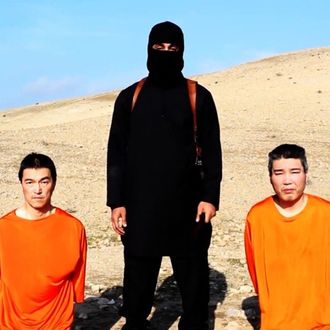 Notorious ISIS militant Jihadi John gave Japanese authorities a deadline to pay a $200 million ransom for the lives of two Japanese citizens, but he didn't give the government a way to contact the terrorist group. That's the trouble Japanese politicians are running into now, as the Friday morning deadline looms. "The other side hasn't said anything at all to the government itself," said government spokesman Yoshihide Suga. "Japan will not cave in to terrorism and will look to continue to contribute to the efforts against terrorism with the international community."
Unlike some other terrorist groups, ISIS doesn't need the ransom money to survive — it receives a steady income from black market oil sales — but the sum named in the Japanese hostage video was not random. Japanese prime minister Shinzo Abe promised that same number to an anti-ISIS coalition last week. The U.S. government doesn't pay ransoms (and famously threatened journalist James Foley's mother if she tried to raise such money) out of fear that it will give militants more incentive to capture other American citizens, but other governments don't have such restrictions. It remains unclear whether Japan is considering paying for the captives' release, or whether it is simply looking for a route to negotiate with the militants.
One of the hostages, Haruna Yukawa, was reportedly captured in Syria this August, at which point his friend Kenji Goto went to find him after acquiring media credentials from a rebel group. The Japanese government was first informed of the kidnapping by Goto's wife, who had been exchanging emails with militants demanding a smaller ransom as early as November. (If she was also contacted by ISIS, it's not clear why the government can't use the same email address to continue the conversation.)
As the government looks for a way to avoid a public execution, other Japanese citizens have taken to mocking the group — whose carefully manicured clips often raise questions of green screens and other types of video manipulation — through the hashtag #ISISクソコラグランプリ, or ISIS crappy collage grand prix.