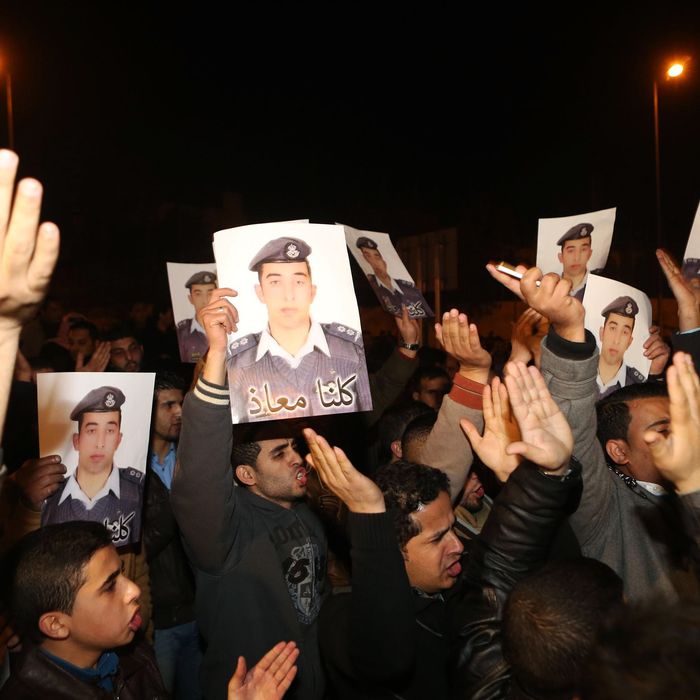 Photo: Anadolu Agency/Getty Images
The Jordanian government announced it is willing to negotiate a hostage swap with ISIS, but only if it gets to order a little off the menu. In exchange for would-be suicide bomber Sajida al-Rishawi, Jordan wants the militants to return a Jordanian fighter pilot captured when his plane went down in Syria late last year. A video released by ISIS earlier this week, however, only offered an exchange of al-Rishawi for Japanese hostage Kenji Goto.
"Jordan confirms that it is completely prepared to release the prisoner Sajida al-Rishawi if [pilot] Moaz al-Kasasbeh is released and his life is intact," read a statement released on Jordanian TV before the deadline, after the pilot's father publicly appealed to King Abdullah II to save his son's life. The United States, United Kingdom, Japan, and other countries have previously refused to meet the terrorist group's ransom demands.
A Tuesday video featured Goto, the Japanese hostage, holding a photograph of Kasasbeh in an orange prison jumpsuit. A voice-over — supposedly Goto's voice — said that the only way to save both hostages is to release Rishawi, who has been imprisoned in Jordan for nearly a decade, within 24 hours. It stated that Goto would be released in the hostage swap, but didn't specify whether Kasasbeh would be, too, or whether he would simply be held for a later negotiation.