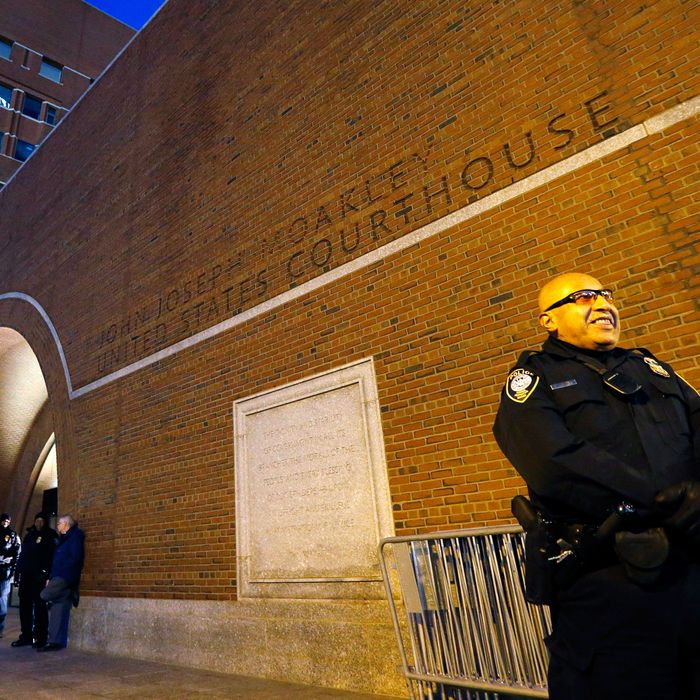 Photo: Michael Dwyer/Corbis
Twenty-one-year-old Boston Marathon bombing suspect Dzhokhar Tsarnaev appeared in court Monday to begin jury selection for his trial. Clad in a dark shirt and khakis, the accused appeared unfazed as judge George O'Toole Jr. explained the 30 counts to prospective jurors — all of whom have been prescreened against opposition to the death penalty. 
Jury summonses have been sent out to thousands of people, some of whom will be disqualified after filling out a written questionnaire that asks, among other things, whether they would be willing to give Tsarnaev the death penalty. That pool will eventually be whittled down to just 12 jurors and six alternates agreed to by both the prosecution and defense teams, who will then be tasked with hearing the case.
"People just feel that they know what happened on that day," Boston mayor Marty Walsh said about the trial. "And I think a lot of people are saying, 'Let's move beyond this thing so the families can have some peace.'"
Tsarnaev pleaded not guilty to the charges, and his defense team will reportedly try to blame his older brother, Tamerlan, for influencing the younger sibling. Tamerlan was killed in a shootout with police days after the bombing, which killed 3 people and caused 16 others to lose limbs. (The brothers are also accused of killing an MIT police officer, Sean Collier.) 
A plea bargain for Tsarnaev failed over disagreement about the death penalty. In negotiations with defense attorneys, government officials declined to take execution off the table — thereby dismissing chances of avoiding a costly trial. The actual trial, once the jury is nailed down, is expected to last three or four months. It will start at the end of January.