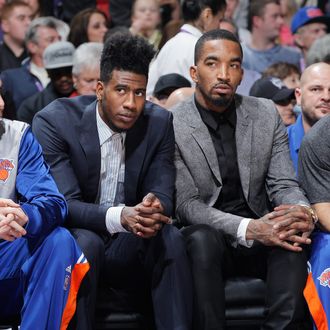 Iman Shumpert and J.R. Smith.
Photo: Rocky Widner/Getty Images
Phil Jackson's first full season as Knicks president has been a disaster: They've won just five games, and own the league's worst record. And so last night, he began the process of starting over: As part of a three-team trade, in which the Cavs sent Dion Waiters to Oklahoma City, the Knicks shipped Iman Shumpert and J.R. Smith to Cleveland, and in return received three players from the Cavs and Thunder with non-guaranteed contracts that they're expected to waive. The Knicks also waived center Samuel Dalembert, whose contract would have become guaranteed on Saturday. The Knicks are getting a 2019 second-round pick from Cleveland as part of the trade, but make no mistake: It's a good old-fashioned salary dump on their part. For Jackson, though, the hard part is figuring out what happens next.
Yesterday's moves will save the Knicks more than $20 million in salary and luxury taxes. In a press release last night, Jackson stated the obvious: "These transactions improve our flexibility to the current roster and the salary cap for future seasons." In other words, the current roster wasn't working, so he's saving up for this summer (and possibly beyond). The Knicks are on track to have more than $30 million in cap space available this summer.
Of course, Knicks fans have been through this before, when Donnie Walsh gutted the roster in advance of the Summer of LeBron, and had to settle for Amar'e Stoudemire. Jackson's target this summer could be Marc Gasol, and while it's a long shot that he'd leave a good situation in Memphis to join the Knicks, it's been pointed out that he is friends with José Calderón, which could make New York at least a little more attractive. (That's wishful thinking, of course, especially since Calderón could himself be traded.)
The Knicks, by the way, still have their 2015 first-round draft pick. Luckily for them, NBA owners recently voted down changes to the draft lottery that would have reduced the incentive for teams to tank their season.