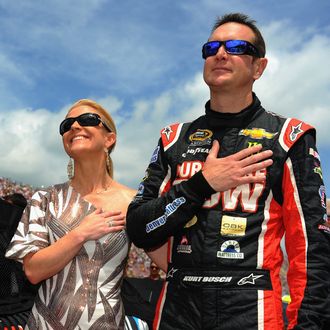 Photo: Will Schneekloth/Getty Images
During a hearing for a no-contact order filed by NASCAR driver Kurt Busch's ex-girlfriend Patricia Driscoll, Busch claimed his ex is a "trained assassin" who travels to foreign countries murdering people. Oooh, I smell a new Jason Bourne sequel!
Busch says Driscoll admitted to him several times that she was a hit woman who carried out missions in Central and South America and Africa. According to the AP, Busch testified that once she left "in camouflage gear only to return later wearing a trench coat over an evening gown covered with blood." Sounds like somebody's been watching a lot of James Bond movies.
In his testimony, Busch also said that Driscoll has showed him photos of people with gunshot wounds in their heads and also said Jessica Chastain's character in Zero Dark Thirty was partially based on her life.
Driscoll, for her part, asserts that Busch has lifted the assassin claim from a movie script she's been working on for eight years.
"Everybody on the outside can tell me I'm crazy, but I lived on the inside and saw it firsthand," Busch said.