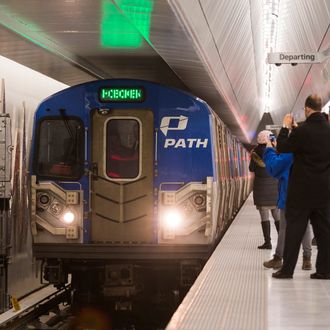 Photo: Andrew Burton/2014 Getty Images
At the end of December, governors Andrew Cuomo and Chris Christie unveiled a list of suggestions for saving money at the Port Authority, one of which was the elimination of PATH service in between the hours of 1 and 5 a.m. (The move would shave $10 million from the agency's $330 million budget.) While that proposal probably meant nothing to you, it struck horror into the hearts of the roughly 2,000 people whose jobs (or busy partying schedules) require them to regularly use the PATH to travel in between New Jersey and Manhattan during the latest portion of the weeknight. What will happen to these wretched souls? Will they have to buy cars? Spend $100 on cabs every day? Move? 
Well, they don't have to figure it out right away. On Wednesday, Port Authority chairman John Degnan announced that the death of the late-night PATH isn't imminent, noting the idea "has not even been presented to the board of commissioners." "Were the board to take up this issue in the future, any proposed reduction in PATH service would first require detailed study, consultation with local public officials and other interested parties, and, of course, a series of public hearings," he explained. Expect a lot of very tired people to show up.