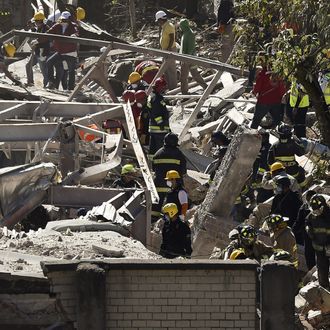 Rescuers work amid the wreckage caused by an explosion in a hospital in Cuajimalpa, Mexico City, on January 29, 2015.
Photo: Ronaldo Schemidt/AFP/Getty Images
At least three adults and one baby died on Thursday when a gas tank truck exploded at a Mexico City children's hospital, collapsing 30 percent of the building. Dozens more were injured, and authorities fear some people could still be trapped within the rubble. The explosion is believed to have been caused by a leak in the hose that transferred gas from the truck to the hospital.