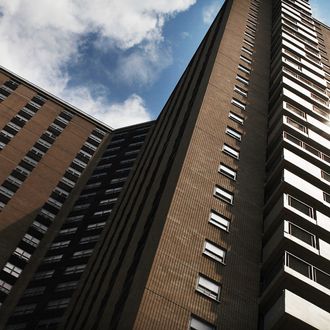 A view of residential buildings at Co-op City where workers went on strike on June 1, 2010 in the Bronx borough of New York City. Some 500 maintenance men, groundskeepers, garbage attendants and various other employees started the strike at 8am Tuesday over a freeze proposed by management at Co-op City, one of the largest cooperative housing developments in the world.
Photo: Spencer Platt/Getty Images
The Bronx has seen an uptick in Legionnaires' disease during the past month, and now city health officials think they may have pinpointed one of the sources. Co-Op City, a sprawling residential complex in the borough, has a cooling tower that has tested positive for the bacteria that causes the illness, says the Department of Health. Eight of the 12 people who've been diagnosed with Legionnaires' — a severe and sometimes fatal form of pneumonia — live in the complex. Decontamination efforts are now under way in the tower, which supplies water for cooling and heating and not, thankfully, for drinking.