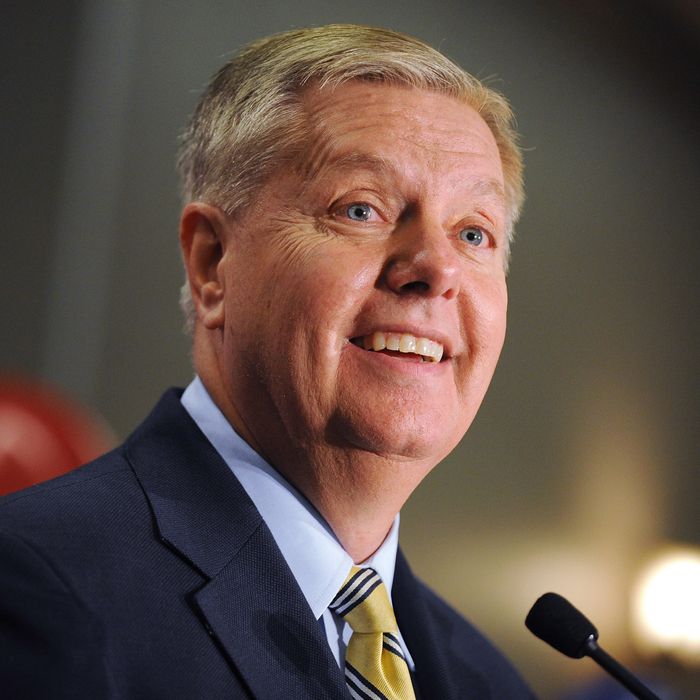 Photo: Rainier Ehrhardt/AP
South Carolina senator Lindsey Graham has made the first official moves toward a 2016 run for the White House, announcing the formation of a political committee that will help him explore presidential options. A new website also touts Graham's "reputation as a conservative problem-solver and one of the strongest proponents of a robust national defense."
The three-term senator is good buds with John McCain, himself a failed presidential candidate, and has openly said that the two have discussed a potential run by Graham. One built-in advantage for South Carolinians: His home state is usually the third to weigh in on primary candidates, after Iowa and New Hampshire.
Graham's rollout included, of course, a nod to the right's favorite thespian: "Ronald Reagan's policy of 'Peace Through Strength' kept America safe during the Cold War," he said in a statement. "But we will never enjoy peaceful coexistence with radical Islam because its followers are committed to destroying us and our way of life." Not coincidentally, his PAC is called Security Through Strength.
If elected, Graham would be only the second lifelong bachelor to hold the Oval Office. (The first was James Buchanan.) He'd also be the second president to be born in South Carolina, after Andrew Jackson.