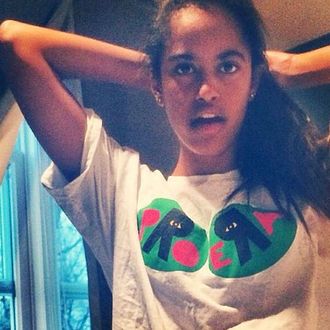 Photo: maskedgorilla/Instagram
A photo that may or may not depict First Daughter Malia Obama wearing a T-shirt repping the Brooklyn hip-hop collective Pro Era has caught the attention of the internet after it surfaced on Instagram last night. The facts are still a little unclear, but there's one thing we know for sure: It definitely looks like a picture a teen would take using PhotoBooth.
The photo, which purports to depict Malia posing sassily in a white T-shirt bearing the Pro Era logo, first popped up on Pro Era's Twitter feed and quickly spread to sites like Vibe and Complex. A representative for Pro Era member Joey Bada$$ told Gawker that they received the photo from "a mutual friend of Malia and the pro era member," but declined to give further details.
The image doesn't appear to be Photoshopped, but it's unclear whether the subject is actually Malia or a particularly convincing doppelgänger. Allow us to investigate further.
Evidence for the photo being of Malia Obama:
Evidence against:
As a friend put it: "Why would this

 

exist?"
We've reached out to Pro Era and will update if we receive further information on this very important breaking news story.