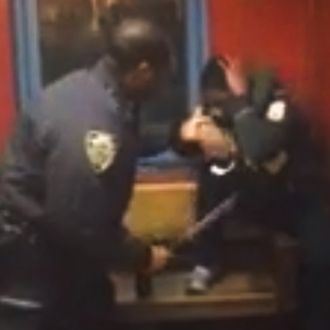 The young man a cop cracked in the head with a nightstick in November is planning a $3 million lawsuit, the New York Daily News reports.
According to the paper, 20-year old Donovan Lawson recently dealt with the fare-beating and resisting arrest charges stemming from his violent encounter with NYPD officer Evans Mazile, who was recorded hitting Lawson in a Brooklyn subway station after he tried to sneak through the turnstile behind his girlfriend. (Lawson's charges will be dismissed if he stays out of trouble for six months.) Lawson's lawyer, Ilissa Brownstein, told the Daily News that she's preparing to sue New York City for $3 million, claiming that Mazile used excessive force. Brownstein also plans to sue the city for $1 million on behalf of Lawson's girlfriend, Ceanna Pulido-Wolf, who is claiming false arrest. (Pulido-Wolf was taken into custody along with Lawson but ultimately wasn't charged with anything.)
Back in December, DNAinfo reported that Mazile was on medical leave, apparently because he beat Lawson so hard he hurt his own wrist. The video of the incident showed Lawson bleeding profusely from his head, and Brownstein says her client "suffers headaches and memory loss as a result of the injury and when she last saw him two weeks ago he still had a large bump protruding from his forehead." The Brooklyn District Attorney's Office has been investigating Mazile for excessive force, but so far it hasn't brought the case to a grand jury.