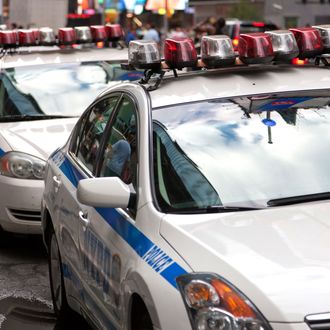 Photo: Clarence Holmes / Demotix/Corbis
A Pennsylvania man who claimed he was high on PCP slammed his car into a police cruiser near the Holland Tunnel on Wednesday night, according to the Daily News. The suspect, whose identity has not been confirmed, is being charged with "aggravated assault, terroristic threats and reckless driving," and is being held at Bellevue.
Around 7:50 p.m. on Wednesday, the 24-year-old man driving a grey Audi violently veered into a fire lane at the intersection of Varick and Watts Streets, crashed it into a Port Authority vehicle, and then shouted that he was high on PCP (so much for playing it cool), though only synthetic marijuana was found in the vehicle.
The incident occurred right outside the New York Mag offices. No word on whether the suspect made any statements about his crime being "actually newsworthy."