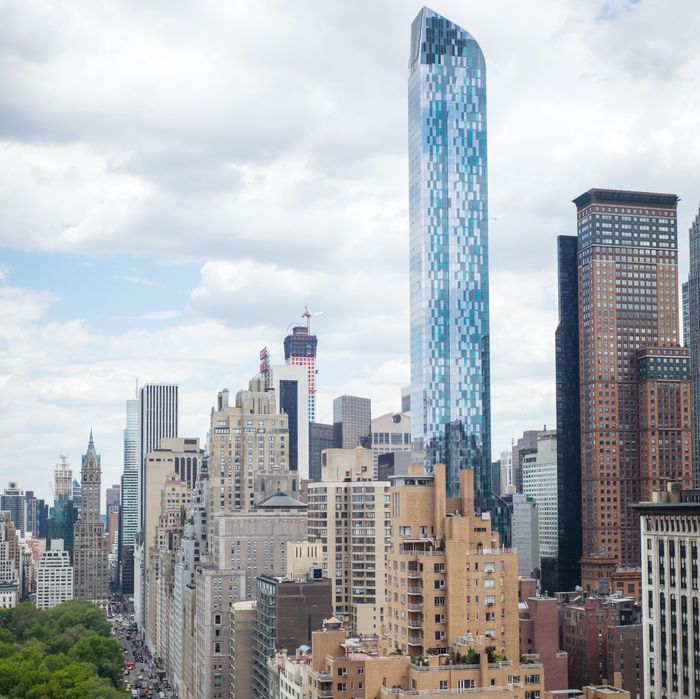 42-49197578
Photo: Robert Nickelsberg/Getty Images
Anyone who braved the waters of Manhattan real estate last year knows it got mad real out there. Brokerage firms released fourth quarter market reports today and the numbers don't lie: The median price per square foot for Manhattan properties is now $1459, according to Urban Compass, the highest it has ever been and surpassing pre-recession records by 19.1 percent. And there's more: Douglas Elliman's survey pegs the average sales price at $1,718,530, a stat that also tops numbers set in 2008. The median price, which some may argue is a more accurate indicator of market conditions, is $960,000, per Halstead Property and Brown Harris Stevens — the second highest ever.
In other words, 2014 was insane. "It was a banner year," says Sofia Song, head of research at Urban Compass. "We saw things getting snapped up much more quickly than since the market peaked in 2008."
The boom in ultra-high-end luxury condos partly explains the frenzy. Urban Compass found the number of condos sold asking $10 million or more rose by nearly 200 percent — 191 percent, to be exact — compared to the same period in 2013.
Yet even though 6,500 new apartments are expected to hit the market in 2015, dubbed by the New York Times as the "year of the condo," experts aren't predicting relief for apartment-hunters anytime soon. Especially not for typical, non-oligarch, non-mogul types. "2015 is going to have a lot of new development inventory, but not a lot of price diversity," says Song. Meanwhile, she adds, the market for starter apartments and two-bedrooms continues to be "extremely underserved," especially one-bedrooms, which were the fastest to go into contract last quarter, spending "the shortest time on the market."
Diane Ramirez, CEO of Halstead Property, echoes this concern. "Smaller apartments is where we really have low inventory." Even in the $2 million to $7 million market, "there's really not a lot of product." (This while demand shows no signs of abating: The Corcoran Group saw 3,216 contracts signed in the last three months of 2014, "the highest number … for the fourth quarter since 2006.")
Appraiser Jonathan Miller, who prepared the Douglas Elliman report, says one-bedrooms are indeed the "slowest rising size type." Its market share is up 10.9 percent for the year. Compare that to studios, which are up by 15 percent, two-bedrooms by 18 percent, three-bedrooms by 36.9 percent, and four-bedrooms by 34.7 percent.
In short, there aren't as many going on the market compared to other types of apartments, and not enough to sate the appetite for them. And market conditions aren't likely to shift anytime soon. "It's going to be a slow process," Miller says, especially since lending hasn't yet eased by much. "Credit is [still] tight [because] interest rates are too low and mortgage lenders are still under siege from forced buybacks and Department of Justice litigation and they're looking around the world and seeing Europe sliding into recession and the Feds sitting there saying when they raise rates, it'll be slowly. What's going to change over the course of the next six months or a year?"
All this to say that regular buyers will likely find the market intractable for quite some time. "Prices are going to continue to increase, [though] not at the level we've had and seen in the couple of years," says Ramirez. "But we're still definitely going to be in a seller's market in the foreseeable future."