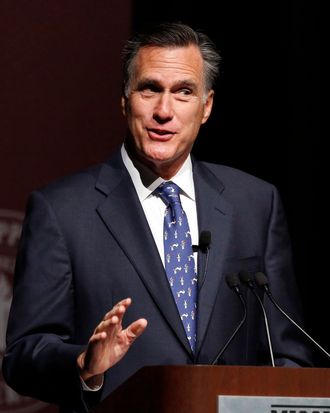 Mitt Romney will announce to a group of supporters at 11 a.m. that he is not running for president, according to a statement confirmed by CNN. Hate to say we told you so, but …
Here's a portion of his speech, the full text of which you can read here:
After putting considerable thought into making another run for president, I've decided it is best to give other leaders in the Party the opportunity to become our next nominee.

Let me give you some of my thinking. First, I am convinced that with the help of the people on this call, we could win the nomination. Our finance calls made it clear that we would have enough funding to be more than competitive. With few exceptions, our field political leadership is ready and enthusiastic about a new race. And the reaction of Republican voters across the country was both surprising and heartening. I know that early poll numbers move up and down a great deal during a campaign, but we would have no doubt started in a strong position. One poll out just today shows me gaining support and leading the next closest contender by nearly two to one. I also am leading in all of the four early states. So I am convinced that we could win the nomination, but fully realize it would have been difficult test and a hard fight….

I've been asked, and will certainly be asked again if there are any circumstances whatsoever that might develop that could change my mind. That seems unlikely. Accordingly, I'm not organizing a PAC or taking donations; I'm not hiring a campaign team.
Welp. It was fun while it lasted.