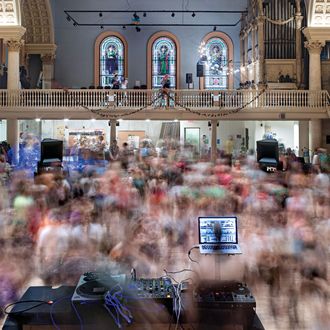 They came to Judson Memorial Church "dressed to sweat," per the invitation, at 6:30 a.m. on a Wednesday. Dancers of both sexes could be seen in dresses, or leotards with chaps, or pajama pants and a utility belt. In the past, people have shown up in butterfly costumes or as Minnie Mouse.
This was the final 2014 edition of Morning Gloryville, a monthly a.m. sober rave imported from London—not to be confused with Daybreaker, New York's other a.m. sober rave, which has been starting your day off right three times a month since December 2013. Daybreaker is mostly held in clubs and on boats; Morning Gloryville's venues have natural light "because we want a more uplifting experience," says its New York co-founder Annie Fabricant. During this photograph's three-minute exposure (click the image to enlarge), three yoga classes were under way on the balcony, and the violin prodigy Jourdan Urbach played along with the DJs as couples made out. By ten, everyone had left for work, high on only coffee and good vibes. There was "no sense that people were out of their minds on drugs," says photographer Matthew Pillsbury, "and it was magical to see so many gathered at such an early hour."
*This article appears in the January 12, 2015 issue of New York Magazine.