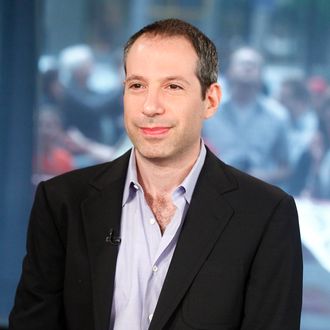 Photo: Peter Kramer/? NBC Universal, Inc.
NBC News may have found its new Today show boss. Daily Intelligencer hears the network is in advance talks to bring on former Today senior producer turned screenwriter Noah Oppenheim to serve as senior VP at NBC News, giving him oversight of the morning show and essentially filling the vacancy created by the recent firing of Today general manager Jamie Horowitz. According to a person familiar with the details of the hiring, Oppenheim's job will include many of the duties Horowitz claimed along with direct editorial oversight of Today.
Oppenheim will be pausing a very successful screenwriting career to take the gig: He co-wrote the adaptation of last fall's box-office hit The Maze Runner and more recently was tapped to write the third film in the Divergent franchise, Allegiant. But Oppenheim also has deep ties inside NBC News, having spent eight years at the division during the early 2000s, including three at Today, where he oversaw the newsy first hour of the show. His other news roles before he left in 2008 (to take a job heading unscripted at Biggest Loser co-producer Reveille) included producing the pilot for Jim Cramer's signature CNBC show Mad Money, working as a senior producer on Chris Matthews's Hardball, and working on coverage of two presidential elections.
Oppenheim returns to a Today show very different from the one he left. Instead of the dominant first-place program it was back in 2008, the morning staple now regularly finishes behind ABC's Good Morning America, ending the fourth quarter with nearly 650,000 fewer viewers than its longtime rival. A Today show publicity rep couldn't be reached for comment.