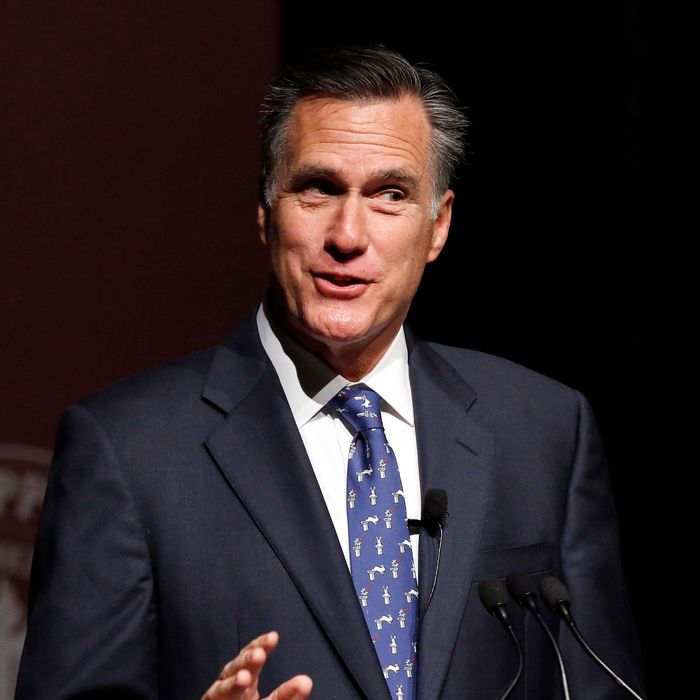 Mitt Romney, the nation's rich but boring ex, wants us to give him another chance, and in a Wednesday night speech at Mississippi State University, he tried to prove he's a changed man. Speaking in the nation's poorest state, Romney said we can end poverty in America by applying "conservative policies that improve America's education system, promote family formation and create good-paying jobs." He explained part of the solution, according to a Brookings Institution study, is encouraging couples to commit. "We have to make sure our government programs aren't creating incentives for people not to get married," he said. "And they do right now."
"The reason I'm Republican is because I want to help the poor, the middle class," Romney added. "The rich in America, by the way, are fine." These days, he doesn't even recognize the guy who made disparaging comments about 47 percent of Americans.
But Romney hasn't broken all of his old habits. He addressed the two other planks of his latest campaign — the middle class and foreign policy — by taking jabs at President Obama and Hillary Clinton. Referencing Clinton's recent flub, "Don't let anybody tell you that it's corporations and businesses that create jobs," Romney asked, "How can Secretary Clinton provide opportunity for all if she doesn't know where jobs come from in the first place?" He added, "And how does President Obama expect to make America the best place on earth for businesses, as he promised in his State of the Union address, if he persists in business taxation that is the highest in the developed world, regulations that favor the biggest banks and crush the small ones, a complex and burdensome health-care plan, and a slanted playing field for unions and trial lawyers?"
He also chided Clinton for "cluelessly" trying to reset relations with Russia, which then "smiled and invaded Ukraine." "Doesn't the president understand that some of what we are seeing in the world is in part the result of his timid foreign policy, of walking away from his red line in Syria, of paring back our military budget, and of insulting friends like Israel and Poland?" Romney asked. "Strong American leadership is desperately needed for the world, and for America."
A lot of that sounds pretty familiar, but there's definitely something different about Romney. The Washington Post notes that he "seemed unusually comfortable on stage," and kept the audience in stitches. He recalled a man he met on the campaign trail telling him to "stop shaving and grow stubble to become more sexy." "As if I needed that!" Romney cracked. He joked that he's obviously not running to boost his speaking fees because "As you've no doubt heard, I'm already rich." And while visiting a local barbecue joint earlier in the day, Romney broke what he called an "unwritten rule" by letting the press take pictures of him eating.
Per the New York Times:
Asked if this represented a "new Romney," Mr. Romney chewed on his pulled-pork sandwich topped with coleslaw before looking up. "I'm going to eat whether the cameras are here or not," he said.
So, basically, Romneybot 3.0 is a sober version of Bender.