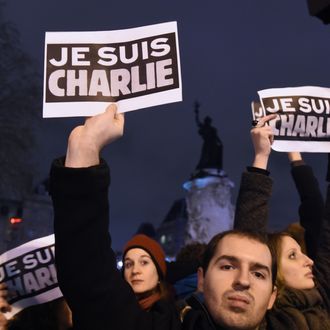 Photo: Dominique Faget/AFP/Getty Images
It didn't take long for Charlie Hebdo — the one with the Mohammed cartoon on the cover — to sell out in New York City, the New York Daily News reports. Only three Manhattan retailers ended up carrying the latest issue of the French weekly: the French embassy's Albertine Books, Soho's McNally Jackson, and the Upper West Side's Book Culture, with each store receiving 100 of the January 14 Charlie Hebdo at the beginning of this week.
Albertine's copies ($6 each) were gone in less than two hours on Tuesday. Meanwhile, McNally Jackson and Book Culture went through theirs within a day and a half. "Freedom of the press is very, very important. Especially with humor, with cartoons, it has to be free," said one man who purchased the issue. "It's like capturing a moment in time, and I wanted to have it." Charlie Hebdo reportedly isn't being sold anywhere else in the United States, but Americans who'd like to belatedly capture its moment in time still have eBay.