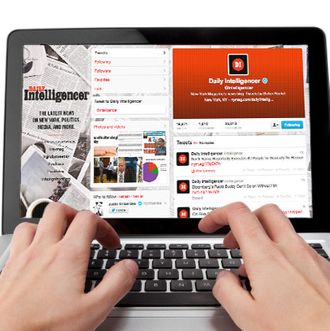 Welcome back to the New York Magazine Competition. On alternate Mondays, we lay out a challenge and offer a sample responses. Enter in the comments section, or on Twitter with the hashtag we've provided, and the editors will select a winner. Criteria are highly subjective, but heavily retweeted and favorited posts will have an advantage. The prize is a year's subscription to New York in print or a two-year subscription to the iPad edition (winner's choice). Full rules are here.
COMPETITION NO. 40: UNEXPECTED GOP CANDIDATES. Please suggest the newest person to join the growing 2016 GOP field, and supply a platform plank or slogan. For example:
WALTER WHITE: "The small-business expert."

ADAM SAVAGE & JAMIE HYNEMAN: "We can't wait to blow up a whole country!"

BILL BELICHICK: "I'll keep inflation down." 
Enter on Twitter with the hashtag #unexpectedGOPcandidates, or in the comments thread below, by February 4.
RESULTS OF COMPETITION NO. 39, "NOW IN CUBA!" in which you were asked to describe a company now opening in its newest market, 90 miles to the south.
HONORABLE MENTION TO:
Taco Bell Havana: Think outside the bun, but not outside state-mandated parameters.
—chris.kaiser
Logic: Now offering electronic cigars.
—Periclescrystal
Clairol: Only your hairdresser knows for sure…and your government! 
—gianna13
HURT—Havana Underground Rapid Transit.  Don't worry, we'll open a second station in the near future. 
—Lexxman
Yanqui Candle—With new scents of Mojito Morn, Fresh Sugarcane, and Faint Whiff of Progress.
—jhartarl
McDonald's Cuba: Bringing you American obesity at affordable prices. 
— LCNYC
COMINTERN Intern Labor Staffing Solutions.
—kthxbye
Jet Ski: Be ready next time there's a regime change.
— j_son
Starbucks' new Havana location is now featuring its Miami Batista blend:  rich and dense, with a bitter finish.  
— dc10001
Fidel Express; When it absolutely, positively has to get there eventually. 
— OldYeller62
De Beers recommends spending at least twenty years' salary on a suitable engagement ring.  Because: A Diamond Takes Forever.
— queasyrider
Diebold: Electronic voting machines to ensure the next century of democratic rule by the people's (only) party. 
—AlienIncognito
Major League Baseball:  We'll save you the trip!
— BambooLounge
Weight Watchers: Reach your goal weight by reducing calorie consumption to a strict weekly amount, as indicated on your government-issued food ration card. 
— JDuggar
Blockbuster: You guys still have VCRs, right? 
— rgqueen
AND THE WINNER IS:
Bitcoin Cuba: Combining two things most Americans pretend to, but don't really, understand.
New York Competition No. 40: New GOP Candidates
Things you buy through our links may earn Vox Media a commission.