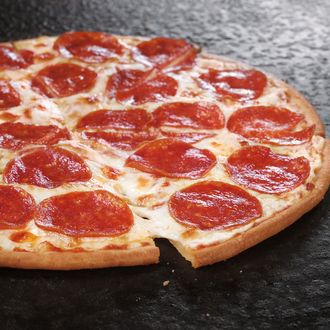 If you craved less-than-wholesome takeout food ahead of Monday's blizzard, you weren't alone. According to data from Seamless.com, orders for pizza, lo mein, and other delivery staples were coming in at roughly twice the normal rates between 2 p.m. and 5 p.m. that day.
It wasn't just a spike in the number of orders — the average order size peaked at 45 percent larger than normal. Here are the top 15 foods with unusual sales spikes during the blizzard, according to Seamless data crunched by the company for Daily Intelligencer:
Cheese pizza — up 135 percent versus a typical winter Monday
Pepperoni pizza — up 134 percent
Hot chocolate — up 122 percent
Bagels — up 105 percent
Boneless spare ribs — up 100 percent
Cannolis — up 98 percent
Bottled water — up 97 percent
Lo mein — up 94 percent
Pancakes — up 78 percent
Chicken vindaloo — up 71 percent
Muffins — up 71 percent
Chicken Parmigiana — up 69 percent
Baked ziti — up 69 percent
Garlic knots — up 69 percent
Sweet-and-sour chicken — up 68 percent
Winter storm Juno may not have delivered the crushing blow we were promised, but it looks like it was just the excuse we needed to break a few New Year's resolutions.