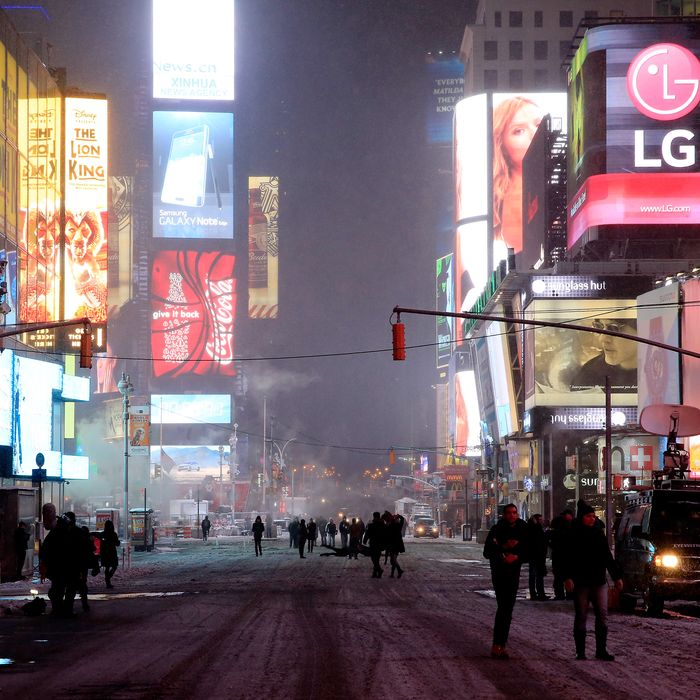 Photo: Alex Trautwig/Getty Images
In the coming days we can have a hearty debate about whether Governor Cuomo really needed to close the subway, but on Monday night most people were following his blizzard instructions. With the storm expected to intensify overnight, Cuomo issued a "total travel restriction ban" in 13 counties stretching from Long Island to mid-Hudson, and most forms of mass transit shut down late on Monday. "If you are in your car and you are on any road — town, village, city — doesn't matter — after 11 o'clock you will technically be committing a crime and get summons up to $300," said Cuomo. As a result, we got to see what the city looks like when you remove most of the New Yorkers.
The travel ban only applied to cars, not people, but these folks had a lot of fun "breaking curfew," so let's not tell them.
But it wasn't all storm dancing, especially for those who made last-minute attempts to flee the city. Throughout the Northeast more than 7,000 flights were canceled. No flights will arrive or depart from La Guardia Airport on Tuesday, and there will be only "minimal flight activity" at other airports in the region.
Those who stayed in had it rough, too. After announcing that roads in New York would be closed to everyone but first responders and other essential city personnel, Mayor de Blasio clarified, "food delivery bicycles — not an emergency vehicle." Okay, he's right … but on the other hand, cooking ramen in the microwave can be so taxing.
Those who took the warnings seriously — either by staying inside or walking to get their own damn dinner — faced some hurdles as well. Facebook, Instagram, AIM, and Tinder went down simultanously for about 40 minutes early on Tuesday morning. Twitter stayed up throughout, so in the event of an apocalypse, it'll probably be your best bet for sharing beautiful/ominous photos like these.
On Tuesday morning, New Yorkers woke to find … way less snow than they'd expected. But, with flakes still falling and the schools and many offices still closed, there's plenty of time to get in some daytime shots before it all turns to disgusting black slush:
Meanwhile, underground …