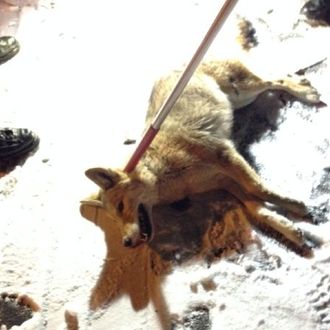 A female coyote spent her Saturday night trotting around Riverside Drive in between 72nd and 79th streets, forcing some Upper West Side cops out into the freezing air. It took more than three hours for the authorities to capture the creature on a Riverside Park basketball court, partially because, as the 24th Precinct tweeted, it was "so cold out, the tranquilizer in the darts kept freezing!" 
Coyotes aren't exactly common in New York, but they're not unheard of: At least six have been spotted around the city over the last five years. The New York Post reports that the animal will eventually be released back in the wild, though certain law enforcement officials seemed a little reluctant to let her go: 
"We knew it had to be a girl," one cop observed, "because she was so feisty." Forgive him — he's still easing back into the ol' post-holiday work routine.