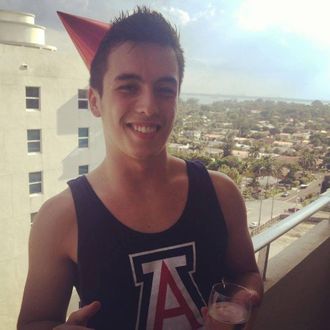 Last week, various news outlets reported that 20-year-old former NYU student Jaime Castano had been arrested for setting his female classmate on fire as she slept in his dorm-room bed. (Castano also Snapchatted a video of the 19-year-old girl waking up and trying to put out the flames as he sang a still-unnamed song.) Now the New York Daily News reports that Castano's lawyer is attempting a somewhat-difficult-to-believe victim-blaming strategy.
At a Tuesday arraignment, attorney Alyssa Gamliel noted that Castano's friend was drunk (or "blacked-out") on the night of the incident. "I do not think she knows what happened or her participation in this, nor do I think the People will be able to prove that she was not sort of participating in some of this activity," Gamliel said. She also suggested that the victim's burns only got infected because her "continued behavior of intoxication" prevented her from taking care of her injuries.
Castano, who has been charged with first-degree assault and reckless endangerment, faces up to 25 years in prison if convicted. He's already been kicked out of NYU and fired from his part-time job as a real-estate agent. His mother, Leena Heiman, recently told DNAinfo that she "really [doesn't] understand" what led her kid to set someone on fire, though, like Castano's lawyer, she seemed to blame alcohol. "[The victim] was a very good friend of my son," she said. "In his right mind he would never hurt her." She added that Castano was "a great student" before heading to New York. "He never drank, he never had alcohol," she said. College has a way of changing that, though most students still manage to graduate without committing any arson.