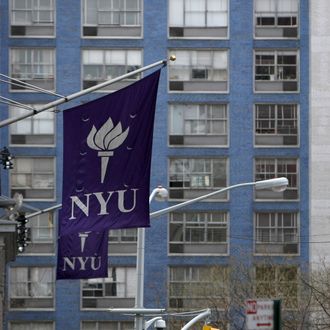 Photo: Bloomberg/Bloomberg2010 Bloomberg
This is crazy, even for an NYU student: The New York Daily News reports that 20-year-old Jaime Castano has been charged with first-degree assault and reckless endangerment for allegedly setting his intoxicated 19-year-old classmate on fire. He's being held on $50,000 bond. 
The attack took place on the night of August 23, as the unnamed female victim slept in Castano's dorm room. Castano told the police that he used his cell phone to videotape the young woman "asleep in his bed with flames on her clothing while [he] sang, then showed her waking up and trying to put out the flames," which left her with "painful burns and scarring on her torso." She reportedly didn't understand what had happened until the next day, when she saw the recording on Snapchat. 
According to the Daily News, the victim told NYU officials about the incident soon after it occurred, and Castano was expelled back in September. (His Facebook profile suggests that he's now a real-estate agent who spends a lot of time going to clubs downtown.) However, the school waited until late October to report the crime to the NYPD. What took so long? In a statement to Daily Intelligencer, NYU spokesman John Beckman indicated that the victim initially declined to call the police: "It has been University's practice to give a significant degree of deference to a victim's wishes regarding involving law enforcement," he said. 
Apparently, she eventually changed her mind. Either way, Beckman admitted that, "In retrospect, at least when the facts became clear, this case clearly should have been reported to the police, not withstanding the reluctance of the victim. We are conducting a full investigation as to how a different decision was made in this case and clarifying our decision-making process so that cases like this are reported to the police immediately in the future."
This post has been updated throughout.