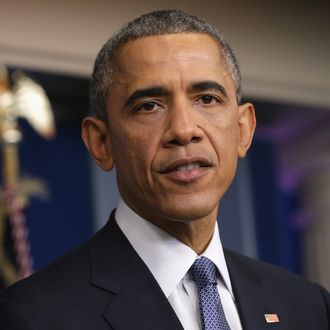 The White House has released another State of the Union spoiler: President Obama will propose several tax increases on the wealthiest Americans. According to the Obama administration, the proposed changes would generate $350 billion over the next ten years. That revenue would be used to help — who else? — the middle class. 
Here are the highlights of Obama's plan:
Eliminate tax breaks on inheritances, which administration officials referred to as the "trust fund loophole." "The new proposal would also protect middle class taxpayers by adding exemptions for heirlooms and bequests under $200,000 for couples and property with value under $500,000 for couples,"

ABC

News

 

notes.
Raise the capital gains rate from 23.8 percent to 28

 

percent. 
Impose a new fee on the 100 or so financial firms that have more than $50 billion in

 

assets.
Obama hopes to spend the money on tripling the child-care tax credit to $3,000, expanding the Earned Income Tax credit, and creating a $500 "second earner" credit for families in which both spouses work. The cash would also cover the "free" community college program that Obama will officially introduce during the State of the Union. Sounds good! But don't forget that all of these ideas will have to pass the Republican Congress before they can go into effect.