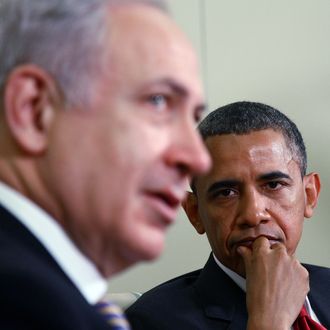 Photo: Mark Wilson/Getty Images
Israeli prime minister Benjamin Netanyahu will likely speak before a full house during his visit to Congress in March, but a meeting with one figure will be noticeably absent from his schedule. President Obama won't meet with the Israeli leader, citing the usual White House policy of avoiding pre-election meetings with foreign heads of state. "As a matter of long-standing practice and principle, we do not see heads of state or candidates in close proximity to their elections, so as to avoid the appearance of influencing a democratic election in a foreign country," said National Security Council spokeswoman Bernadette Meehan on Monday.
The White House statement comes after Netanyahu was invited by Speaker John Boehner to address Congress on Iran sanctions in a rather unorthodox manner. Instead of an arrangement between the two heads of state, Netanyahu's visit went through congressional channels — ones that are much more receptive to his hawkish message on Iran than the presidential administration is.
But before worrying about the U.S. Congress, Netanyahu may have to consider some differences of opinion in his own backyard. Bloomberg reported Wednesday night that famed Israeli intelligence agency Mossad doesn't share the prime minister's desire to slap the Islamic Republic with a new round of sanctions, worrying instead about the impact such a move would have on ongoing nuclear negotiations with the country. Members of the agency allegedly met with visiting U.S. senators to voice concerns about the Kirk-Menendez Bill, which would harshly punish Iran if the country does not reach a nuclear deal by June 30.
The intelligence agency denied Bloomberg's description of its advocacy in a statement Thursday. Mossad head Tamir Pardo instead says it praised the "exceptional effectiveness of the sanctions imposed on Iran in recent years" to the Senate delegation.