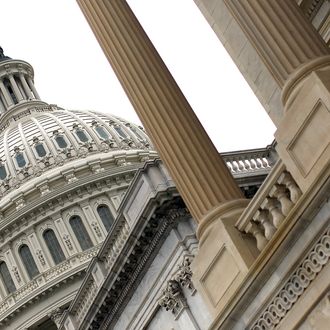 Photo: Win McNamee/2011 Getty Images
An Ohio man who allegedly hoped to establish an ISIS cell in the United States was arrested on Wednesday for plotting an attack on the U.S. Capitol. The FBI says Christopher Lee Cornell, who also used the name Raheel Mahrus Ubaydah, was planning to set off two pipe bombs around the Capitol and then shoot U.S. lawmakers and other government employees. The 20-year-old from Green Township was apprehended on Wednesday after buying two semiautomatic weapons and 600 rounds of ammunition as part of his final preparations before heading to Washington, D.C.
Cornell came to the attention of law enforcement officials last year after an informant in an unrelated case told the FBI that someone going by the name Raheel Mahrus Ubaydah was calling for violent "jihad" on Twitter and making other online comments supporting ISIS. The informant started talking with Ubaydah through Twitter, and then they moved to a separate instant-messaging platform. Per CBS News:
On Aug. 29 of last year, Cornell wrote an instant message telling the informant that he had been in contact with persons overseas and did not expect to get the green light to conduct an attack, but said he wanted to do it anyway on his own, the FBI said.

"I believe that we should just wage jihad on our own orders and plan attacks and everything," Cornell allegedly told the informant.
Cornell reportedly told the informant that such attacks "already got a thumbs up" from Anwar Awlaki before the U.S.-born radical cleric was killed by a 2011 CIA-led drone strike in Yemen. He also wrote, "I believe we should meet up and make our own group in alliance with the Islamic State here and plan operations ourselves," according to court documents.
The informant met with Cornell two times last fall and allegedly said during their second meeting that he saw members of Congress as enemies and intended to attack the Capitol. The FBI says that in addition to purchasing guns today, Cornell had been saving money to finance the attack and researching how to build bombs. "The public was not in danger during this investigation," said an FBI official.
Cornell has been charged with attempted killing of a U.S. government official and possession of a firearm in furtherance of an attempted crime of violence.