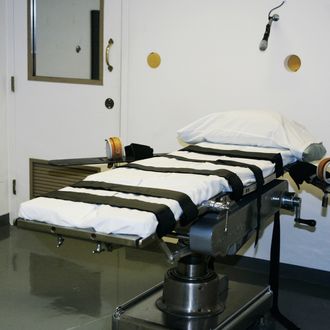 Oklahoma death-row inmate Charles F. Warner was scheduled to die by lethal injection last April 29, but his execution was postponed when hours earlier, the state horribly botched the execution of another prisoner, Clayton Lockett, who reportedly died of a heart attack 43 minutes after he was given a three-drug cocktail. 
Oklahoma is now planning to move forward with Warner's execution Thursday night, the state's first since Lockett's apparently gruesome death nine months ago. Warner, who was convicted for the 1997 sexual assault and murder of an 11-month-old girl, will also be put to death via a lethal injection made up of the same three drugs originally administered to Lockett, but with an increased dosage of one drug, a sedative called midazolam. Oklahoma upped the dosage after an investigation into what went wrong during Lockett's execution. The probe also led to other changes in protocol and renovations to the execution chamber.
Warner's attorneys, as well as lawyers for three other Oklahoma prisoners on death row, were unsuccessful in convincing the courts to delay execution. Lawyers specifically cited that same drug midazolam, arguing that it might not be a powerful enough sedative to prevent prisoners from feeling pain. They added that its effects "are not known completely and [are] too unpredictable," says the Times. Medical experts also backed this testimony.
Oklahoma officials challenged these arguments, stressing the drug's efficacy and holding that justice should not be delayed in Warner's case because of "baseless speculation." According to court documents culled by The Guardian, Oklahoma's assistant attorney general testified that mizadolam is "not as good as some other drugs in some respects, but it doesn't mean that it's unconstitutional or it's ineffective." 
Warner's attorneys are still petitioning the Supreme Court for a stay, which, if granted, could halt the execution. Another death-row prisoner in Florida is slated to die by lethal injection Thursday, becoming Florida's 12th prisoner to receive the drug cocktail that Oklahoma is replicating — a fact the judges cited when permitting Warner's execution in Oklahoma to proceed.