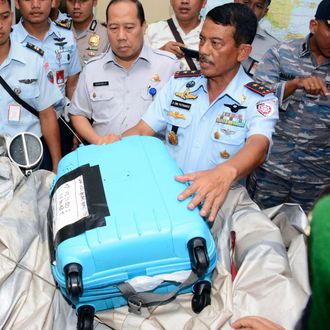 Photo: Dewi Nurcahyani/Corbis
Divers have retrieved one of two black boxes from AirAsia Flight 8501, the jet that crashed off the coast of Borneo two weeks ago. Searchers detected "pings" from one of the black boxes over the weekend, but rough weather prevented them from recovering it until Monday morning. It could take up to two weeks to download data from the device, and searchers have yet to locate the cockpit voice recorder.
Update: The cockpit voice recorder has been found, but divers haven't been able to free it from debris on the sea floor. Officials hope the information in the black boxes will help them determine what caused the crash, which killed all 162 people onboard.