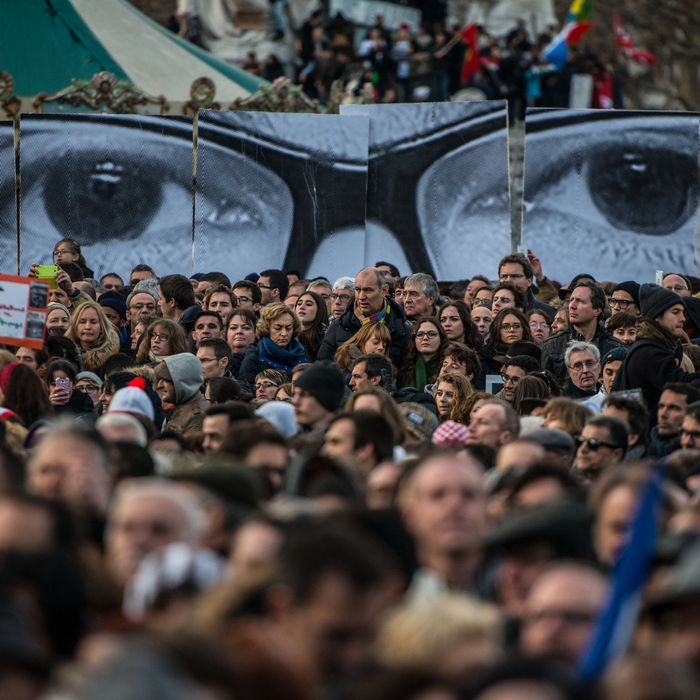 More than 3.7 million people showed up for unity marches across France on Sunday, less than a week after the attacks at Charlie Hebdo and a kosher grocery store left 17 people (plus three shooters) dead. According to officials, a rally in Paris drew somewhere between 1.2 and 1.6 million attendees alone. Some French news outlets reported that 3 million people protested in Paris, which, if true, would make it the largest demonstration in France's history. 
The Parisian demonstrators were joined by around 40 world leaders, including French president François Hollande, U.N. secretary-general Ban Ki-moon, British prime minister David Cameron, Italian prime minister Matteo Renzi, German chancellor Angela Merkel, Malian president Ibrahim Boubacar Keita, Ukrainian president Petro Poroshenko, Russian foreign minister Sergey Lavrov, Israeli prime minister Benjamin Netanyahu, and Palestinian president Mahmoud Abbas. (For reasons unclear, no American officials attended.) The politicians — some of whom are, obviously, not on the best terms with one another — made a show of linking arms as they led the mostly quiet marchers through the city.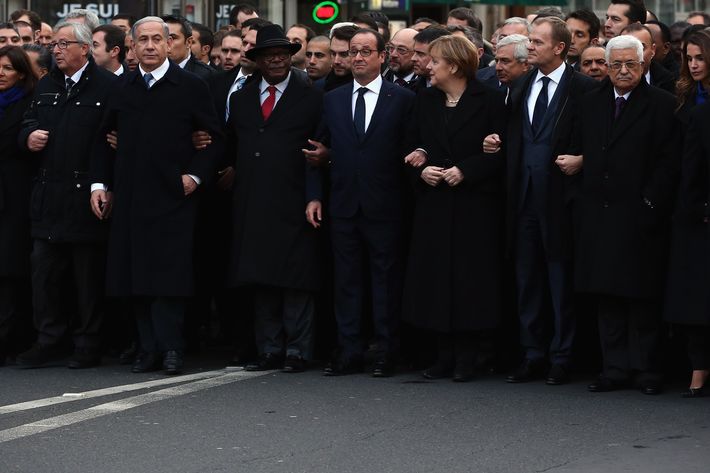 Reuters reports, "Some 2,200 police and soldiers patrolled Paris streets to protect marchers from would-be attackers, with police snipers on rooftops and plain-clothes detectives mingling with the crowd." The sewers and subway station under the march route were also closed. Meanwhile, smaller demonstrations were held in other major cities, including New York, London, Madrid, Cairo, Sydney, Stockholm, and Tokyo. 
In a statement, Hollande said the demonstration of solidarity had transformed Paris into "the capital of the world." Our entire country will rise up toward something better," he said.