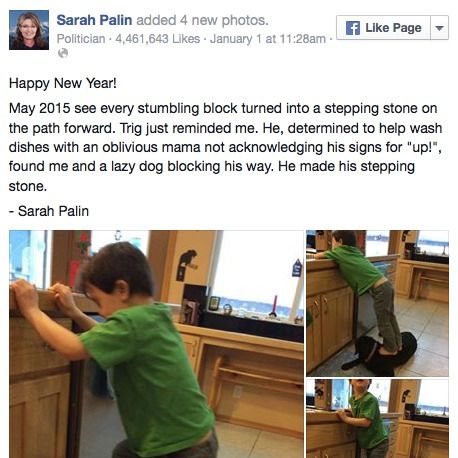 It's 2015 and Sarah Palin is somehow still here. The former Alaska governor rang in the New Year by drawing the ire of animal-rights groups when she posted several photos of her youngest child, Trig, with his feet planted on the family's black Labrador retriever. "[See] every stumbling block turned into a stepping stone on the path forward. Trig just reminded me," Palin wrote on Facebook. "He, determined to help wash dishes with an oblivious mama not acknowledging his signs for 'up!', found me and a lazy dog blocking his way. He made his stepping stone."
Of course, millions of Palin fans found this heartwarming, but PETA (among others) did not. In a statement issued to Politico, PETA president Ingrid Newkirk said, "It's odd that anyone — let alone a mother — would find it appropriate to post such a thing, with no apparent sympathy for the dog in the photo. Then again, PETA, along with everyone else, is used to the hard-hearted, seeming obliviousness of this bizarrely callous woman." Newkirk then reminded everyone of the time Palin cheerfully answered a reporter's questions while a guy slaughtered a turkey just a few feet away.
That was enough to awaken Mama Grizzly. "Dear PETA," Palin responded on (where else?) Facebook the next day. "Chill. At least Trig didn't eat the dog." She went on to attack the group for not attacking several other people (including President Obama, because he once wrote about eating dog meat in Indonesia) before throwing down the gauntlet in uniquely Palin-esque terms:
Aren't you the same anti-beef screamers blogging hate from your comfy leather office chairs, wrapped in your fashionable leather belts above your kickin' new leather pumps you bought because your celebrity idols (who sport fur and crocodile purses) grinned in a tabloid wearing the exact same Louboutins exiting sleek cowhide covered limo seats on their way to some liberal fundraiser shindig at some sushi bar that features poor dead smelly roe (that I used to strip from our Bristol Bay-caught fish, and in a Dillingham cannery I packed those castoff fish eggs for you while laughing with co-workers about the suckers paying absurdly high prices to party with the throw away parts of our wild seafood)? I believe you call those discarded funky eggs "caviar".
She concluded by insisting that the dog (who is, incidentally, named "Jill Hadassah") is "loved, spoiled and cared for more than some people care for their fellow man whose politics may not mesh with nonsensical liberally failed ways or don't fit your flighty standards." In other words: Welcome back from vacation, everyone.