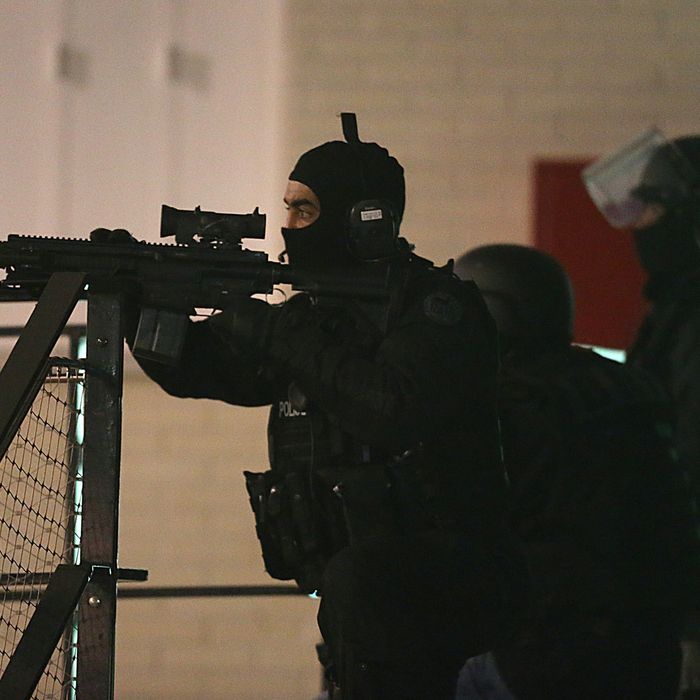 Photo: FRANCOIS NASCIMBENI/AFP/Getty Images
The youngest of three suspects in Wednesday's shooting at the offices of Charlie Hebdo, a French satirical magazine, has surrendered to authorities. A massive manhunt is under way for the other two men, who are believed to be the masked gunmen who ran into the magazine's office and opened fire before speeding away in a waiting vehicle. Twelve people were killed in the attack, including eight journalists, two police officers, a maintenance worker, and a visitor. Eleven people were also wounded, four of them seriously. 
Officials said 18-year-old Hamyd Mourad turned himself in at a police station in Charleville-Mézières, near the Belgium border, after seeing his name in social media. "He introduced himself and was put in custody," said Agnès Thibault-Lecuivre, a spokeswoman for the Paris prosecutor. According to the French news broadcaster Itele, Mourad claims he is innocent and gave a "credible" alibi, saying he was in school during the attack.
The other two suspects have been identified as French brothers Said and Cherif Kouachi, who are 32 and 34. Both are reportedly known to French intelligence services, and Cherif has had previous run-ins with the law. He served 18 months in prison after a 2008 conviction on terrorism charges, for helping to send fighters to Iraq. He said he was outraged by the torture of Iraqi inmates in the U.S. prison at Abu Ghraib, according to the AP.
Police sources say the bothers are linked to a Yemeni terrorist network, and witness Cedric Le Bechec said he heard the attackers say, "You can tell the media that it's al-Qaida in Yemen."
Investigations related to the attack are under way in Paris, Strasbourg, and Reims, where heavily armed anti-terrorism police were seen raiding a building before sending in a forensics team. Others connected to the brothers have reportedly been arrested.
France's ambassador to Australia, Christophe Lecourtier, told the Australian Broadcasting Corporation that police have tracked down the suspects. "We know more or less where they might be," he said. "And I really hope that in the coming hours the French police will be able to arrest them and bring them to justice."
This post has been updated throughout.