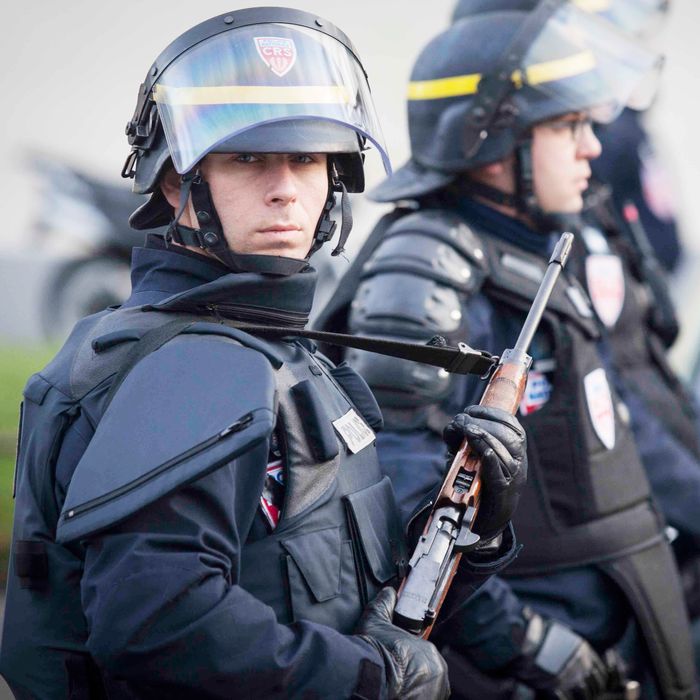 Photo: Anadolu Agency/Getty Images
All three suspects wanted in connection to two hostage situations in France are dead, officials say, after several frightening hours. However, early reports that all hostages have been safely freed appear to have been incorrect, and police are telling French media that several had been killed inside a kosher deli before the police operation.
Shots were heard at the sites of both hostage situations late Friday, during simultaneous raids by authorties. The suspects in Wednesday's Charlie Hebdo shooting were holding at least one hostage in a building in Dammartin-en-Goële, 26 miles northeast of Paris, while another hostage situation unfolded in a kosher supermarket in Porte de Vincennes, east of the city. The second is believed to have involved the gunman from a Thursday shooting of a policewoman, and the two attacks are believed to be linked.
The hostage held by the Charlie Hebdo suspects in a print shop has been released unharmed. The suspects are believed to have come out firing at authorities, and reporters on the scene say they heard gunshots and small explosions. Another raid was carried out on the second hostage location at the same time. The total number of casualties in the second incident has not yet been fully confirmed, but the BBC reports four dead, and other outlets report that hostages have been critcially injured. Three police officers were also injured in the raids.
English-language channel France 24 is broadcasting live updates of the situation as it unfolds:
The link between the two situations seems to lie in a connection between Amedy Coulibaly, the man wanted in the grocery store situation, and Charlie Hebdo attack brother Cherif Kouachi. Coulibaly, 32, had a long rap sheet that included youthful convictions for armed robbery. He is believed to have converted to Islam during one of his prison stints, where he also met Cherif. Coulibaly only recently finished his latest prison term, for attempting to break Paris Metro Attack culprit Smaïn Aït Ali Belkacem out of prison.
It's not clear whether there was contact between the two hostage situations, but Coulibaly reportedly demanded safety for the Charlie Hebdo attackers. Upon opening fire at the deli, he reportedly cried, "You know who I am."
Cherif Kouachi and his brother, Said, had been on the run since Wednesday's terror attack, and on Friday morning they reportedly hijacked a car in Montagny-Sainte-Félicité. They then entered a business in nearby Dammartin-en-Goële and took at least one hostage.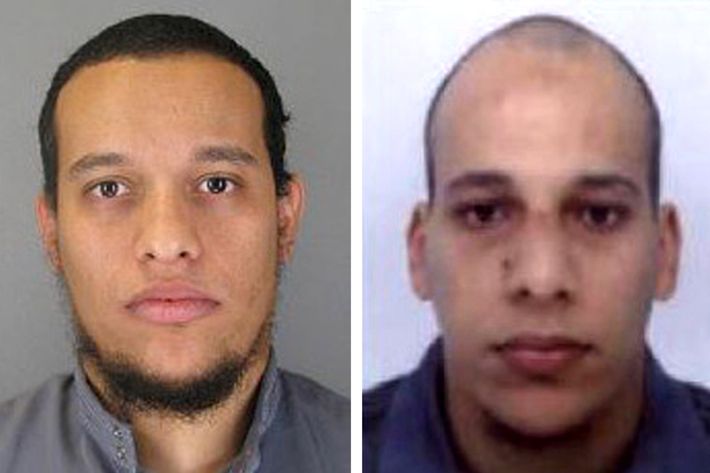 Police had surrounded the building and established contact with the suspects by phone earlier in the day. The brothers agreed to let police evacuate a nearby school. According to Yves Albarello, a local lawmaker on the scene, they told negotiators that they "want to die as martyrs."
Authorities soon released the identities of suspects wanted in yesterday's police shooting, thought to be linked to the second hostage situation in the kosher grocery store. Coulibaly is apparently from Juvisy-sur-Orge in Ile-de-France, relatively close to Paris, and Hayat Boumeddienne, 26, is reported to be Coulibaly's partner. They were described as being armed and dangerous.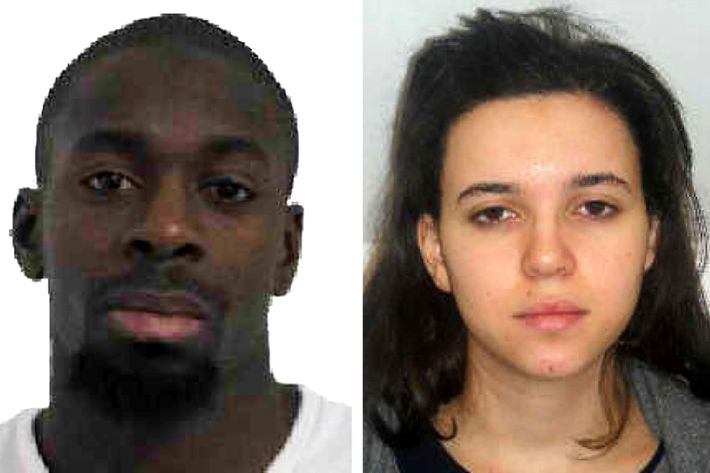 A newspaper clipping circulating online suggests that Coulibaly met former French president Nicolas Sarkozy in 2009.
Though it hasn't been confirmed that this is the same man wanted in the hostage situation, the names and ages match up. The article says that Coulibaly has nine siblings, and suggests that he is a little star-struck by the encounter. "I'm really pleased. I don't know what I'll say to him. I guess I'll start with hello. Hopefully the president can help me get a job," he says. "Sarkozy isn't very popular with young people, but it's nothing personal. In fact it's the same for most politicians. Meeting him will be very impressive though. Like him or not he's still the president."
A man named Fabian said he witnessed the hostage-taking situation. "There was an individual — African — who had a Kalashnikov … and he immediately went into the deli and he started shooting with his Kalashnikov," he told French media. The French Foreign Ministry denied early rumors that two of the hostages in the kosher deli had been killed.
France implemented wide-ranging security measures as the hostage situations unfolded. Many nearby schools were on lockdown, and a Jewish neighborhood was also been asked to implement special precautions:
Dammartin-en-Goële, where the Charlie Hebdo suspects were, is less than ten miles from Charles de Gaulle Airport, and two of its runways have been closed to arrivals. At least three police helicopters were hovering over the town, and police were seen descending from them on ropes. People in other buildings in the industrial complex had been told to remain inside and stay away from windows.
This post has been updated throughout.