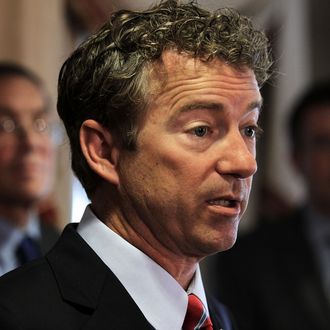 Photo: Alex Wong/Getty Images2013 Getty Images
From posting a Facebook gallery of "Hillary's Loser's" to taunting Marco Rubio on U.S-Cuba relations via Twitter, Rand Paul's online presence can best be described as what would happen if Alex P. Keaton had access to social media. But as a man who spent his college years in a "secret society" that trolled Baylor University so hard that they were threatened with expulsion, Paul is capable of much more. On Thursday the senator stepped up his game by posting a recording, which was apparently produced by his PAC, of a fake phone call between Hillary Clinton and Jeb Bush. 
"I just wanted to call and give you a heads-up in hopes we could work something out," says the actor playing Bush. "What do you mean, Jeb? It's clearly my turn: Bush, Clinton, Bush. Now Clinton," replies the actress portraying Clinton.
It's never stated, but the message is clear: America should shake things up by electing the son of an unsuccessful presidential candidate.