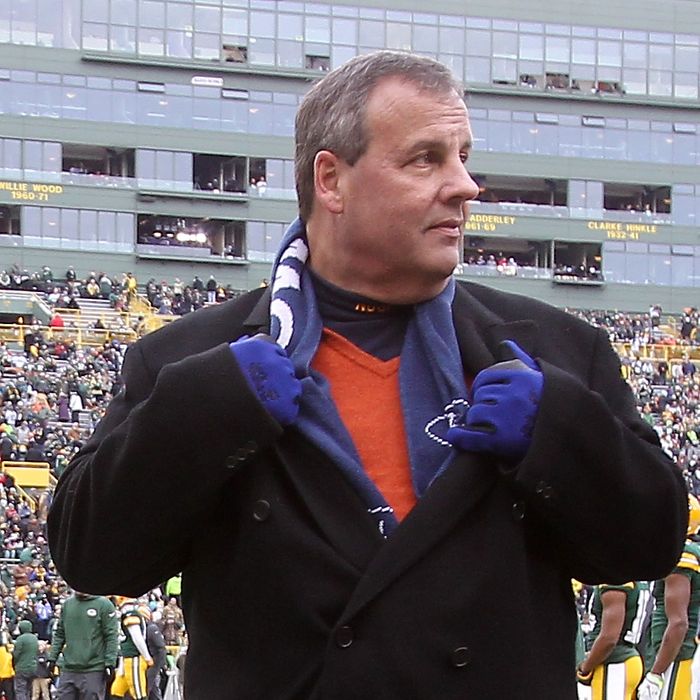 Photo: Mike McGinnis/Getty Images
On Sunday Chris Christie learned that there's a downside to being invited to watch your favorite team from the owner's box. No, not the ethics complaint or theoretically losing the presidency. After traveling all the way to Green Bay's Lambeau Field only to see the Green Bay Packers beat the Dallas Cowboys 26–21, the New Jersey governor had to endure some ostensibly friendly online ribbing from Wisconsin politicians, including Congressman Paul Ryan and Governor Scott Walker.
Christie and his son Andrew watched the playoff game from Cowboys owner Jerry Jones's private box, but this time the governor paid for his own trip. The mood was much more somber than it was a week ago, when Christie engaged in a traitorous hug.
Outside in the stands, the weather was freezing, with a 90 percent chance of gloating:
Wisconsin state lawmakers got in on it, too:
Walker started mocking Christie last week:
And at the game he made fun of Christie's hug and the lucky orange sweater he wore to the last five games:
In an interview with NJ.com after he came home on Sunday, Christie seemed to be taking the loss surprisingly well, but he refused to acknowledge that the sweater isn't as lucky as he thought. "It'll be recycled," he said. "I don't know about retired. It definitely needs a dry cleaning. It's not getting pilly yet, so that's a good thing. The sweater will go back into the closet for cocktail parties or whatever we use it for."