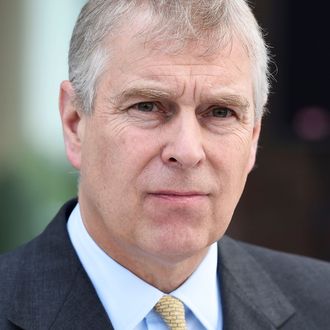 Photo: Alexander Koerner/Getty Images
A new motion filed in a Florida court last week implicates 54-year-old Prince Andrew, Duke of York, in the ongoing scandal surrounding New York money manager Jeffrey Epstein's alleged underage sex slave ring. The motion seeks to expand a lawsuit filed by two anonymous victims in 2008 to include allegations from two new women who claim they were also trafficked by Epstein. Happy Monday!
In the document, a woman called "Jane Doe #3" alleges that between 1999 and 2002 she was sexually abused by Epstein, who also pimped her out to his rich and famous friends, including Prince Andrew. On three separate occasions, Jane Doe #3 says she had sex with Prince Andrew when she was 17 years old.
Ghislaine Maxwell, a 53-year-old British socialite and daughter of the late publishing magnate Robert Maxwell, allegedly acted as a madame for Epstein, bringing him underage girls he and his trusted cohorts could sleep with, including Jane Doe #3. From the motion:
For instance, one such powerful individual Epstein forced Jane Doe #3 to have sexual relations with was a member of the British Royal Family, Prince Andrew (aka Duke of York). Jane Doe #3 was forced to have sexual relations with this Prince when she was a minor in three separate geographical locations: in London (at Ghislaine Maxwell's apartment), in New York, and on Epstein's private island in the U.S. Virgin Islands (in an orgy with numerous other under-aged girls). Epstein instructed Jane Doe #3 that she was to give the Prince whatever he demanded and required Jane Doe #3 to report back to him on the details of the sexual abuse. Maxwell facilitated Prince Andrew's acts of sexual abuse by acting as a "madame" for Epstein, thereby assisting in internationally trafficking Jane Doe #3 (and numerous other young girls) for sexual purposes.
The prince and the royal family have denied the accusations. Buckingham Palace issued a statement to The Guardian assuring that "for the avoidance of doubt, any suggestion of impropriety with underage minors is categorically untrue."