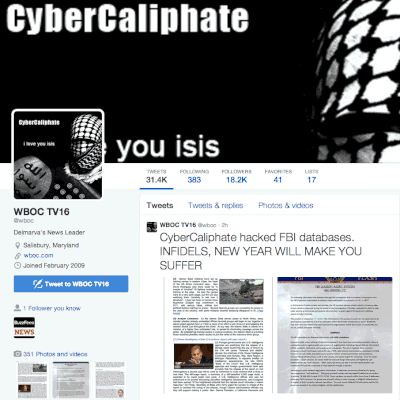 A hacker group proclaiming itself to be the "CyberCaliphate" took over the websites and social media profiles for the Albuquerque Journal and the WBOC 16 local Maryland TV station Tuesday, changing the pages' themes and claiming to speak on behalf of the Islamic State in this "cyber jihad."
A since-deleted Facebook page, allegedly belonging to the CyberCaliphate, had a post declaring its intentions. "You'll see no mercy infidels. We are already here, we are in your PCs, in each house, in each office. With Allah's permission we began with New-Mexico and will come to every state, inshallah," it read, according to the New York Daily News. "We won't stop … We know all your personal data: where you live, what you eat, your diseases, and even your health insurance cards."
But the link between the hackers and the terrorist group ISIS is more than tenuous. On another Facebook page claiming to represent the group, the wannabe militants even use an image of a covered figure in front of a green flag bearing the shahada, or declaration of faith — a green flag that looks nothing like the Black Standard flown by ISIS. Its masked figures appear to be wearing the black-and-white keffiyeh, a scarf usually associated with Palestinian movements. In all lowercase letters, the logos read: "i love you isis."
Both outlets quickly tried to mitigate the damage from the attack, the second of this sort for the Journal. (It had suffered its first web attack just before the New Year.) But WBOC was still unable to regain control of its Twitter feed as of 4:30 p.m. "We are as baffled as the folks at the Albuquerque Journal are," said WBOC's station manager, Craig Jahelka.
On the station's Twitter feed, hackers posted material purporting to be classified or top secret, and claimed to have hacked the FBI. But the criminal records and spreadsheets posted don't seem to have come from within the site.
For a group targeting New Mexico, though, their posts contain not nearly enough (not any!) information on alien conspiracies. For shame.