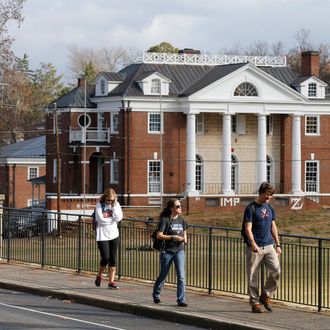 Phi Kappa Psi.
Photo: Steve Helber/AP/Corbis
Spring fraternity rush began Thursday night at the University of Virginia after Phi Kappa Psi, the fraternity at the center of a controversial Rolling Stone story, was reinstated. That controversy did nothing to discourage a wave of rushees from attending its open-house event, according to three UVA students interviewed over the phone and by email.
After the article detailing the brutal gang rape of a university student at the Phi Psi house in 2012 was published, all Greek activities were suspended and Phi Psi was kicked off campus. The Greek system resumed its normal functions on January 6, a few days before the temporary ban was set to expire. Phi Psi reclaimed its official status on Monday after a Charlottesville Police Department found no evidence that the events described in the Rolling Stone article took place at that fraternity house.
The controversy over the Rolling Stone article didn't appear to have affected turnout at Phi Psi, according to a UVA freshman who attended the fraternity's open house on Thursday. He asked to remain anonymous. "I can definitely affirm that it was crowded and lively. They were the last house I hit and I still had to wait in line," he said in an email. A female freshman, who wanted to remain anonymous, said that as she walked through campus during sorority rush on Thursday night, it looked like Phi Psi's centrally located house "was the busiest frat I saw that night."
Matt, a UVA freshman who asked that his last name not be used, walked past the Phi Psi house on Thursday. "It wasn't a deserted house by any means. I feel like it'd be a little unfair if it was," he said, in light of the fact that several investigations have effectively cleared the fraternity of any wrongdoing. Matt didn't rush Phi Psi, but a friend who was inside told him the place was "packed."
Although Matt didn't attend Phi Psi's open house on Thursday, he wasn't discouraged by the allegations against the fraternity. "I personally didn't avoid it because of that. There could have been people that would have because of that, but if they could vocalize that, it'd be an unpopular opinion. There were plenty of people who did go to Phi Psi … They're considered to be one of the popular fraternities."
In an email, Phi Psi president Stephen Scipione said, "We had a good crowd last night but it's far too early to judge rush this year."
In the wake of the allegations in the Rolling Stone article and the ensuing investigations, rush this year "is expected, by some, to be the safest and most supervised recruitment in recent years," according to the Cavalier Daily student newspaper.
This is due in large part to new rules governing drinking at UVA's frat houses. The rules were written up by UVA's fraternities based on input from the university. "I'm really proud of it," said IFC board member Brian Head of the agreement. "I think everything written in it is achievable by all the fraternities." Head is also president of One in Four, an all-male group that works to prevent campus sexual assault, as well as a member of the Phi Gamma Delta fraternity.
Under the new rules, at so-called "Tier 1" events — frat parties, basically — beer must be served in cans, wine poured by a sober frat boy, and liquor by a licensed bartender. All this must be supervised by "sober and lucid" fraternity members. The new rules also outlaw the beloved undergraduate staple known as "hunch punch" or "jungle juice."
These policies are, at the very least, unlikely to make things worse, according to a sophomore named Joanna, who participated in sorority rush last year but decided not to join a house. "It's harder to get drunk off beer or boxed wine," she said.
The female freshman who walked past the frat on Thursday night said the absence of strong, sweet, pre-mixed drinks will make these parties less popular for young female undergraduates. She and her friends, at least, prefer punch over beer. To make up for the lack of alcohol, "I think there's going to be more pregaming," she said.
If the allegations — and their aftermath — didn't keep anyone away from the fraternities this spring, they appear to have motivated at least one person to join. A freshman recently told Business Insider he reversed his decision not to participate in rush, based on their response to the story. "They tried to do it in a way where they were getting behind the cause and show that it's something they don't approve of," he told the website.