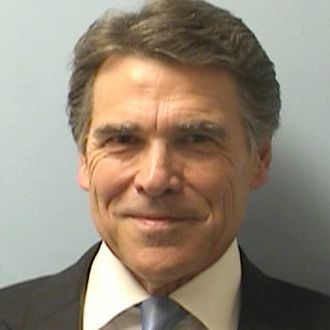 Former Texas governor Rick Perry has a lot of work to do if he wants to make it to the top of the presidential candidate heap, and while he did well in Iowa last week, a Texas court might have just squashed his 2016 hopes entirely. On Tuesday a state judge refused to dismiss the criminal charges against Perry, saying he doesn't have the authority to throw out the abuse-of-power case on constitutional grounds. (Though he said that claim is "compelling and may be relevant at a later time.") Perry's attorneys have already filed a notice of appeal, but the ruling significantly increased the chances that the case will drag on through the end of 2015, when the primary race begins in earnest.
Perry was indicted in August on two felony charges for vetoing funding for a Texas district attorney's office. The veto was a political maneuver aimed at pushing out Travis County District Attorney Rosemary Lehmberg, who refused to resign after she was arrested in 2013 for drunk driving. Obviously, Perry will have a tough time making the case that he should be president if there's still a possibility that he could be sentenced to 5 to 99 years in prison.
Texans for Rick Perry said in a statement that he was acting lawfully and "continued prosecution of Governor Perry is an outrage and sets a dangerous precedent in our Democracy." Plenty of people agree (including New York's Jonathan Chait): A bipartisan group of prominent law professors and attorneys filed a brief in November recommending that the charges be dropped, and as the Hill notes, even Perry's potential rivals are defending him.
Actually, maybe it's time for Perry to stop fighting this thing. Why run as a bumbling, bespectacled Texas sheriff when you can be a beloved outlaw with with a hot mug shot?