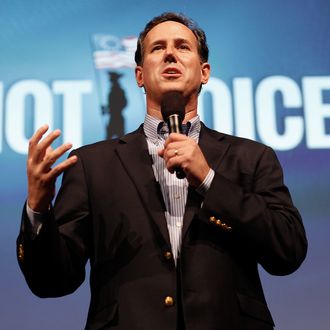 Photo: Tom Pennington/2012 Getty Images
Rick Santorum has a problem: How do you get people talking about your potential 2016 campaign when you don't have multiple former presidents in your family or a few dozen top GOP donors pressuring you to run? The answer, apparently, is to launch a deeply ironic attack against the presidential front-runners in your own party. In an interview with the New York Times, the two-term Pennsylvania senator who lost his seat in 2006, lashed out at freshman senators Rand Paul, Ted Cruz, and Marco Rubio. "Do we really want someone with this little experience?" Santorum asked. "And the only experience they have basically — not Rubio, but Cruz and Paul because I don't think Rubio is going to go — is bomb throwing? Do we really want somebody who's a bomb thrower, with no track record of any accomplishments?"
He also attacked Mike Huckabee, his toughest competition for the Christian conservative vote. (While Santorum is now on the C-list of GOP presidential contenders, he did win 11 primaries and caucuses in 2012.) Per the Times:
"He has to talk about Common Core. I love talking about Common Core," Mr. Santorum said of the education standards that have become deeply unpopular among conservatives. "He has to talk about immigration and the Dream Act. I love talking about immigration and the Dream Act. He has to talk about taxes; I haven't voted for a tax increase. I have a 100 percent record on taxes, signed every pledge every year."

Mr. Santorum then turned to an aide and asked: "What's the other one?"
All of Santorum's targets lightly brushed off his jabs, but Rand Paul's team couldn't resist taking a swing. "Senator Santorum lost re-election in his home state by 18 points nearly a decade ago, and has spent the time since then trying to convince people to elect him to an even higher office than the one he was booted out of," said Doug Stafford, Paul senior adviser. "We will pass on responding to his alleged wisdom."
The best part of the whole thing (aside from the prospect of a Santorum/Christie/Paul shouting match during the debates): Last week Santorum told Bloomberg Politics that while he hasn't changed his views on any issue, he hopes to run as a uniter. "There are issues out there in America that unite us, and one of the things I'm excited about in looking at a campaign in 2016 is having a message that not only unites Republicans but also can bring Democrats along not just during the campaign, but, more importantly, as we see the division in Washington, afterwards," he said.