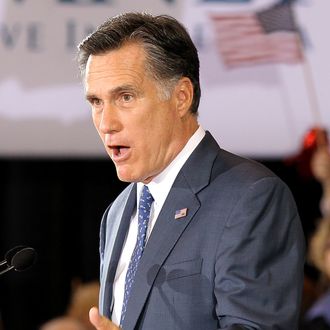 Photo: Justin Sullivan/2012 Getty Images
It's been a full week since Mitt Romney told some GOP donors that he's considering a third run for president, and it seems that no one has yet managed to talk him out of his crazy idea. On Friday night, Romney hopped aboard an aircraft carrier in San Diego for the Republican National Committee's annual winter meeting, where, CBS News reports, he "laid out what can only be described as a presidential platform." But first, he did a little joke about the 2016 "speculation." "Let me state unequivocally that I have no intention of running for U.S. senator of Massachusetts," he said. Okay — strap in!
Romney talked about "three principles" for Republicans to adopt for the "post-Obama era": "First we have to make the world safer. Second, we have to make sure and provide opportunity for all Americans regardless of the neighborhood they live in. And finally, we have to lift people out of poverty." Signaling his readiness to take on the presumptive Democratic candidate, he criticized Hillary Clinton and President Obama's "devastating" foreign-policy strategy, which he said was "based in part on the premise that if we're friendly enough to other people, and if we smile broadly enough and press the reset button, peace is going to break around the world."
On the third item, Romney said that the United States is "an abundant nation" with "the resources" to help people out of poverty. While he didn't describe any specific policy ideas, Mr. 47 Percent's nod to the issue of income inequality suggests that he plans to do things a little differently this time around (if he's allowed to, that is).
Romney wrapped up his 13-minute speech with another quip about his potential campaign. "Now I should tell you," he said, "that the last few days, the most frequently asked question I get is 'what does Ann think about all this?' And she believes people get better with experience. Heaven knows I have experience running for president!" His platform might change, but his sense of humor will remain the same.