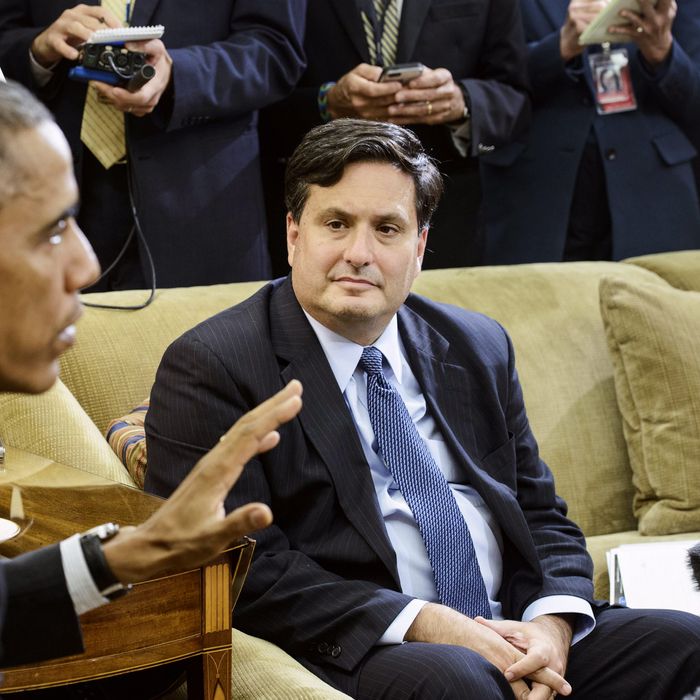 Photo: Brendan Smialowski/AFP/Getty Images
"You picked a good day to come," Ron Klain, America's Ebola czar, says, settling into an upholstered chair in his corner office at the Eisenhower Executive Office building, next door to the White House. It's Wednesday. Wednesday, Klain explains, is a big day for the community of people who fight Ebola. It's the day the World Health Organization releases its weekly data report about the global epidemic. Klain's already seen the numbers, and there's some good news. "It's the first time since June that the number of new cases in a week is below 100," he says. "Obviously, we're not done until it gets down to zero, but in October we were seeing 1,000 new cases a week, so to be under 100 new cases a week is a lot of progress."
You may have temporarily forgotten Klain. The 53-year-old longtime Washington operative was hired in October, amid much finger-pointing and freaking out, to coordinate the government's response to the threat. It was five days before Craig Spencer, the New York City physician who contracted Ebola in Guinea, was placed in isolation in Bellevue Hospital — arguably the moment Ebola panic hit its peak. Some of the same members of Congress who were demanding that the president appoint someone to handle the response efforts then immediately questioned why he went with a political operative like Klain, a former chief of staff to vice presidents Joe Biden and Al Gore, rather than someone with medical expertise. But Klain has a reputation for handling crisis response (he was Al Gore's lawyer in the 2000 election — Kevin Spacey played him in the movie Recount).
The international response may have come too late to help in the worst of the crisis — an administration aid said that the government-supported Ebola treatment units have seen more than 1,000 patients, but the Washington Post reported last week that many of the units were empty. "The reaction to the disease has pretty consistently been about 90 to 120 days behind the path of the disease," says Ken Isaacs, vice president of programs and government relations at Samaritan's Purse. Klain is leaving the temporary gig less than four months later to pretty good reviews. The pundits, to the extent to which they've commented on it at all, have generally copped to being too alarmist about the threat to the United States, and that the government response was better than they'd initially feared it would be. Republicans, meanwhile, haven't turned him into a partisan punching bag, which is as good as a compliment by today's standards of Congressional-executive branch interaction. But Klain's been so under the radar that even the Ebola experts I spoke to weren't sure what he'd done.
Here's what Klain says he's been working on: In October, there were only three hospitals prepared to treat Ebola patients in the United States, and now there are 48. There were only a dozen labs that could test for the disease here, and now there are 42. The CDC has implemented a system for monitoring people who return from West Africa to the United States for 21 days, which wasn't in place in October; two vaccines are in clinical trials; and in December, Congress passed $5.4 billion in funding for treatment and prevention, nearly all of the $6.4 billion the administration asked for. Klain, whose job duties can be summed up with "it's a lot of meetings," was careful not to take credit.
"I haven't gotten anything done by myself — it's always a big group effort. I'm just one person in a response," he says. He won't say whether the White House plans to replace him when he leaves next month to return to his venture-capital gig, but there's still a lot of work to be done, not just in preventing more outbreaks but helping rebuild the health-care systems in countries that have been consumed by the Ebola crisis. "We've got to make sure that the preparations we've done over the last few months are funded and built into the system in a sustainable way, so after people forget about Ebola in a few months and the next thing comes we're not starting this all over again," he says.
Many members of the public already have moved on, but Klain doesn't blame the media for last year's freak-out. "I think the public anxiety and the media anxiety in September and October — it was completely understandable. Ebola in America was a new thing; people fear new things. That fear isn't unreasonable," he says. "It's our job as the government to address those fears and to put in place a science-based, medically sound response to protect people. That's what the president directed; that's what we've been doing. If, as a result of doing that, people's fears are down, and therefore media coverage is down, that's also a good thing. That's the way things should work."
On the office wall behind him is a large photo of the president sitting in the Oval Office with Dr. Kent Brantly, the first-known American to contract Ebola. While putting Klain out front hasn't been a big part of the administration's post-appointment strategy, making heroic and destigmatizing the health-care workers who worked to fight Ebola has. Over Christmas, Klain played White House host to a number of workers who were stuck in Washington waiting out the 21-day monitoring period. "We tried to really emphasize that these folks are heroes and they should be regarded as heroes," Klain says, noting that they've been invited to White House Christmas parties and have met the president, some before the 21-day monitoring period was done. "That's an important part of making the response effective."
So Klain is leaving the Ebola fight with some sense of accomplishment, if a little trepidation. "I think the world's in much better shape for dealing with Ebola," he says. "The harder questions are how much have we learned from this? And how well-prepared are we for dealing with the next epidemic?"