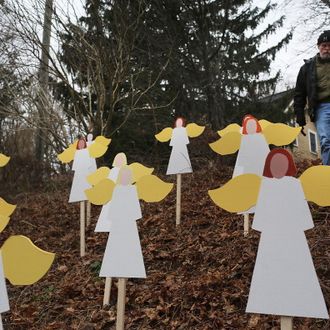 Eric Mueller places twenty seven wooden angles he made in his yard down the street from the Sandy Hook School December 16, 2012 in Newtown, Connecticut. Twenty-six people were shot dead, including twenty children, after a gunman identified as Adam Lanza opened fire at Sandy Hook Elementary School.
Photo: Spencer Platt/Getty Images
The Newtown, Connecticut, home where Sandy Hook shooter Adam Lanza lived with his mom, Nancy Lanza, will be destroyed. The Newtown Legislative Council voted Wednesday to raze the house, also the site where Lanza killed his mother. Newtown residents and neighbors supported tearing down the house, which had sat empty since the 2012 massacre, saying it was a"reminder" of the atrocity. The town currently holds the deed to the property, and though demolition plans have not yet been finalized and signed off on, officials are hoping to clear the land this spring, leaving the lot as an open and undeveloped space. If it's sold in the future, any profits will go to the victims' families.