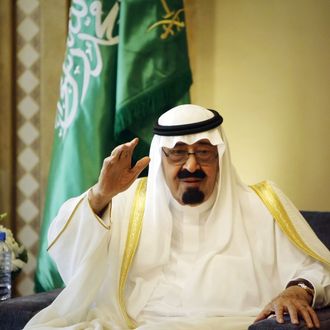 Photo: JOSEPH EID/AFP/Getty Images
As more details emerge about the life and times of Saudi King Abdullah, who passed away yesterday at the age of 90, one factoid stands out: His highness was apparently a big fan of Viagra. 
In a CIA cable from 2008 published by WikiLeaks, operatives at the American embassy in Riyadh wrote, "King Abdullah is 92 years old (born 1916), he remains a heavy smoker, regularly receives hormone injections and 'uses Viagra excessively.'" Another cable detailed the world of vices available to members of the Saudi royal family.
The full range of worldly temptations and vices are available — alcohol, drugs, sex — but strictly behind closed doors. This freedom to indulge carnal pursuits is possible merely because the religious police keep their distance when parties include the presence or patronage of a Saudi royal and his circle of loyal attendants…
Booze and boner pills: a universal language.