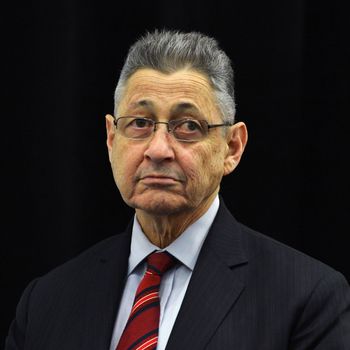 Photo: Slaven Vlasic/Getty Images
In a stunning development, the New York Times reported late Wednesday night that Sheldon Silver, the speaker of the New York State Assembly, would be arrested on federal corruption charges. On Thursday morning, around 8 a.m., he surrendered to FBI agents in lower Manhattan. Silver, who has been speaker since 1994, is the legislature's most powerful Democrat, and, as "the most gifted Albany player of his generation," he's survived numerous scandals. The office of U.S. Attorney Preet Bharara has been investigating secret payments Silver allegedly received from a small law firm as part of its probe into Albany corruption. Here's some background on the speaker, and what led to the arrest that's sure to send shockwaves through Albany.
Who is Sheldon Silver?
Silver represents Manhattan's Lower East Side and has served in the Assembly since 1977. The Times describes the 70-year-old lawmaker as "a consummate back-room player, one of Albany's 'three men in a room,' along with the governor and Senate majority leader, who negotiate the state budget and hammer out deals on important legislation." He was easily reelected speaker on January 7.
He was instrumental in getting the death penalty reinstated in New York in 1995, but after the state's highest court declared it unconstitutional, Silver let efforts to restore the practice die in the Assembly.
The speaker is also known for successfully pushing to repeal New York City's commuter tax and blocking two of Mayor Bloomberg's major proposals: his attempt to build a stadium on Manhattan's West Side and his plan to charge drivers $8 for entering a congestion zone in Manhattan. Many say Silver is the reason that New York is currently the only state where professional mixed martial arts is not legal.
For a deeper look into Silver's biography, from his Lower East Side childhood onward, read Geoff Gray's 2009 New York Magazine profile.
What are the charges?
Silver was charged Thursday morning with mail fraud, wire fraud, and extortion. The extortion and mail fraud charges are amplified by allegations of conspiracy to commit such actions, bringing the total number of complaints to five. Silver is also accused of "using the power and influence of his official position to obtain for himself millions of dollars of bribes and kickbacks masked as legitimate income."
New York State legislators are allowed to hold part-time jobs, and many earn large outside incomes in addition to their regular salaries. (They still tried to give themselves a raise last month.) But the complaint against Silver alleges that he received payments from the law firm of Weitz & Luxenberg for referrals on cases he didn't work on at all – like ones concerning asbestos. Silver allegedly got a doctor to refer mesothelioma cases to the firm in exchange for research grants, and cashed in at $5.3 million. The speaker's claims that he is a personal injury lawyer are also a sham, according to the investigators, who say he hasn't appeared in court on behalf of a client in over a decade.
Another incident noted in the complaint says that Silver got $700,000 from a real estate firm — not named in the complaint but identified by other sources as Goldberg & Iryami — for secretly pushing a major developer to use its services.
At a press conference Thursday afternoon, U.S. attorney Preet Bharara explained the charges against Silver in more detail. The prosecutor asked aloud what, exactly, Silver does, before answering with "He does nothing."
Silver claims he properly discloses all of his income, as required, but has said little about the current federal investigation. Outside the federal courthouse in on Thursday, though, Silver said, "I hope I'll be vindicated."
Will he be forced to step down?
State lawmakers only have to leave office if they're convicted of a felony. There will likely be calls for Silver to voluntarily step down, but that's nothing new for him.
What other scandals has Silver been involved in?
This is not the first time Silver has been the focus of a federal investigation, but it will be the first time he's been charged. While Silver reports his income from the personal injury firm Weitz & Luxenberg, questions about what he does to warrant such large payments have dogged him for years. 
Silver has also been accused of mishandling several sexual-assault allegations in recent years. In 2001, he defended his chief counsel, Michael Boxley, when a 25-year-old Republican assemblyman's aide accused him of raping her. (She claimed Silver continued "eating pretzels, with nonchalance and with rudeness" as she described the rape.) The Assembly's investigation was inconclusive, and the woman chose not to go to the police. Silver continued employing Boxley, and the woman said his investigation was unfair. Two years later, another woman charged Boxley with rape. He resigned and pleaded guilty to sexual misconduct.
After multiple women accused Assemblyman Vito Lopez of sexual harassment, such as groping them and making sexual remarks at work, a 2013 state ethics report found Silver failed to investigate and tried to cover up the allegations. Lopez was eventually censured and resigned. There were also complaints about Silver's handling of a young staffer's claim in 2013 that Assemblyman Micah Kellner sexually harassed her, though the speaker said he acted quickly after learning about the allegations.
Other headlines in recent years were shady but less personally damning. Last spring Silver's close friend was sent to prison for stealing more than $1 million from a nonprofit. The Post claimed his adult children, including one who lives in New Jersey, were using his address to vote. And after the Times published a report on Silver's decades-long effort to block low-income housing on an empty site in his district, he claimed they had the wrong Sheldon Silver and requested a correction (but dropped it when presented with documents on the speaker's official stationery).
Is he the only state lawmaker under investigation?
Hardly. The investigation into Silver stems from the Moreland Commission, the anti-corruption probe that was looking into the questionable behavior of several Albany lawmakers before Governor Andrew Cuomo abruptly shut it down in April. Preet Bharara, the U.S. attorney for the Southern District of New York, then seized the commission's files and said his office would continue its work. In an October radio interview, he described New York's government as "a little bit of a corruption disaster," and specifically pointed to lawmakers' odd sources of income.
"You've got all sorts of problems, but one that people have been right to focus on lately — you have the unrestricted level of outside income that any elected official in New York can have," he said. "And that means a lot of things for the people of New York. When there's precious little disclosure, precious few consequences for violations, you're going to find huge opportunities for corruption, and at a minimum for conflicts of interest."
Arresting Silver is a bold move by Bharara, and right now many Albany lawmakers must be worried that it's just the first of many.
This post has been updated throughout.