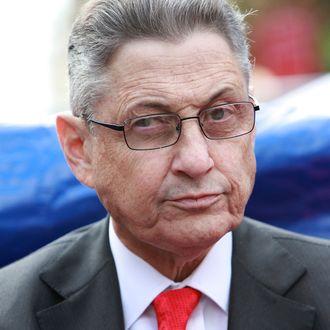 Photo: Charles Eshelman/FilmMagic
Sheldon Silver will heed the growing calls for his resignation — sort of. The Daily News reports that Silver has agreed to step down as speaker of New York's State Assembly, a position he's held since 1994, following his arrest last week on federal corruption charges. A source tells the paper that he's worked out a deal to let five veteran Assembly Democrats — Majority Leader Joseph Morelle, Herman "Denny" Farrell, Joseph Lentol, Cathy Nolan, and Carl Heastie — run the chamber in his stead. However, the highly unusual arrangement would only be temporary. He'd be able to reclaim the position if he manages to beat the charges (it wouldn't be the first time).
The New York Post is also reporting that Silver told a few top Democrats he'll step aside, but the speaker is denying it. "He is not stepping down," said his spokesman, Michael Whyland.
We should know more on Monday, as Silver is scheduled to address the Assembly's Democratic caucus for the first time since his arrest (weather permitting). Even if Silver loosens his grip on the legislature, it looks like he's a long way from letting go; there's no talk of him resigning as assemblyman for Manhattan's Lower East Side.