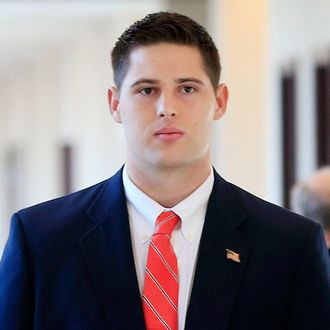 Brandon Vandenburg
Photo: Mark Humphrey/Corbis
In his opening statement given on Tuesday during the trial of two ex-Vanderbilt football players charged with raping a female student, Assistant District Attorney Tom Thurman revealed sickening details of the acts that allegedly occurred during the summer of 2013. 
Surveillance video that allegedly shows football players carrying the unconscious neuroscience student from her car into the Vanderbilt dorm where the assault took place will be a key piece of evidence for prosecutors. And though four former players were charged in the incident, two of them — Jaborian McKenzie and Brandon Banks — will testify against Cory Batey and Brandon Vandenburg. The victim was reportedly Vandenburg's girlfriend at the time.
Several current and former students testified during opening statements, giving a firsthand account of what occurred that June night. In June of 2013, Vanderbilt football tight end Brandon Vandenburg allegedly took his then-girlfriend on a date to the bar Tin Roof, which resulted in a night of heavy binge drinking. The woman was unconscious when she was allegedly carried from the car into the dorm by Vandenburg. Prosecutors say that video footage shows the players dragging the unconscious woman down the dorm's hallway while giggling, snapping photos and video, and pausing to inspect her naked body. Once inside the dorm room, one player allegedly penetrated her with a water bottle while another encouraged him. One defendant allegedly urinated on the victim and "made a racial statement." Another passed out condoms to his fellow players before assaulting her. 
In their opening statements, the defense attempted to cast doubt on the yet-to-be-heard testimonies of McKenzie and Banks, and pinned the blame on a culture of binge drinking and "sexual promiscuity." The victim was seen in the court room in tears, quietly listening to the allegations.
Vandenburg and Batey have both been charged with five counts of aggravated sexual assault and two counts of aggravated sexual battery, with Vandenburg facing an additional charge of unlawful photography and tampering with evidence for allegedly recording the assault and covering up a security camera set up in the hallway of the Vanderbilt dorm.