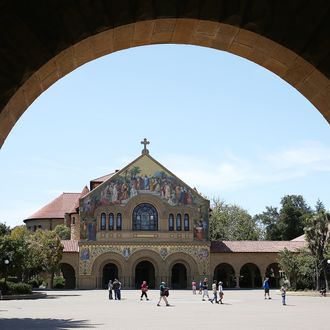 Photo: Justin Sullivan/Getty Images
A 19-year-old Stanford swimmer who competed in the 2012 Olympic trials will be charged today for allegedly raping an unconscious woman on campus, according to the L.A. Times.
Brock Allen Turner has voluntarily withdrawn from the school and is not allowed back on campus after two students reportedly found him on top of an unconscious woman outside on the Stanford campus in the early morning of January 18. Turner attempted to flee, but the students tackled him and called the police. He was arrested after the Stanford University Department of Public Safety investigated and turned over their findings to police.
Prosecutors say Turner met the woman, who is not a student, at a party on campus, then assaulted her after she passed out from drinking. He will be hit with five felony charges, according to SFGate.com: one count of raping an unconscious person, one count of raping an intoxicated person, two counts of sexual penetration with a foreign object, and one count of assault while attempting to commit rape.