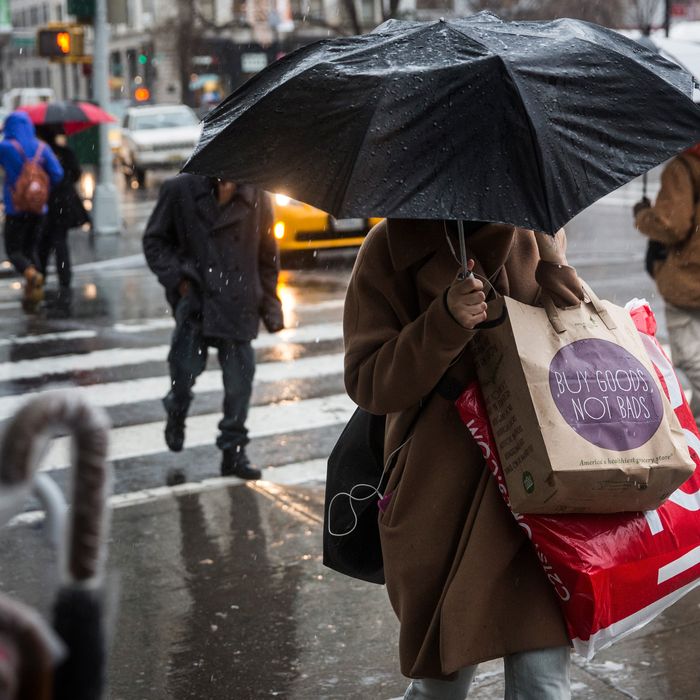 It's bad out there today. The heavy, icy rain and black ice have caused hundreds of car accidents in and around New York City, resulting in highway and bridge closures and delayed emergency services. Flood warnings are in effect in the city, northern New Jersey, and Rockland, Westchester, and Fairfield counties until early this evening. 
NBC New York reports that Sunday's weather was a factor in 425 accidents to New Jersey, and a 50-vehicle pileup on Pennsylvania's I-76 left at least one person dead and more than 30 others hurt. Meanwhile, back in New York: 
City authorities received so many 911 calls related to the weather that nearby municipalities sent more than 30 ambulances to the city to assist emergency responders. Another 40 ambulances were kept on the job after hours, according to the FDNY.Because of the high call volume, people calling 911 with lower priority issues such as non-critical injuries may be put on hold or may receive calls back from 911 dispatchers, the FDNY said.
Forecasters say that Monday will be sunny and clear with temperatures in the low 40s — but, for now, the best way to enjoy your holiday weekend is probably to say indoors.