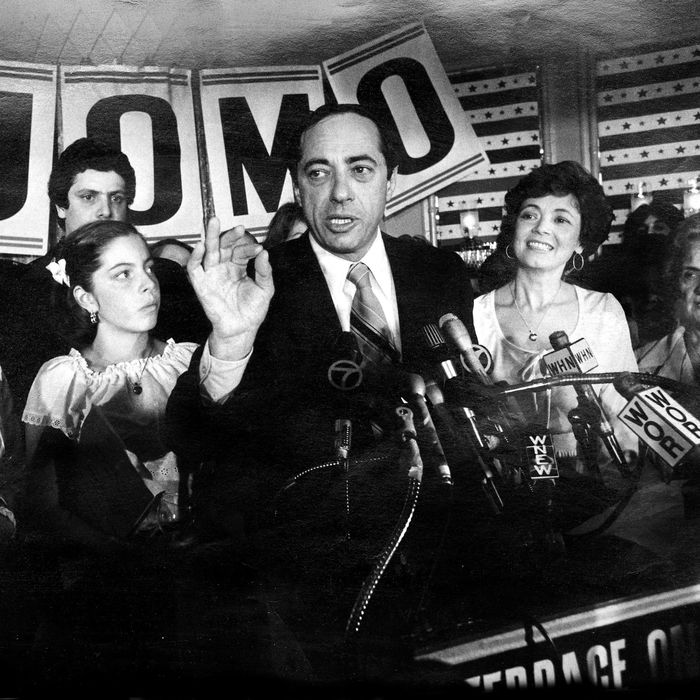 Mario Cuomo concedes defeat in the runoff primary at Tavern on the Green, 1977.
Photo: Bill Stahl Jr./New York Daily News Archive via Getty Images
New York City was in deep trouble in December 1976. A year earlier it had barely dodged bankruptcy and the city was heading into what was sure to be a fractious, pivotal mayoral race. Ken Auletta sized up the likely candidates for City Hall, from Abzug through Zuccotti, including a man who was then-governor Hugh Carey's secretary of State. "Cuomo's brains and decency," Auletta wrote, "are exceeded only by his indecision."
There is a serial biography of Mario Cuomo threading through the archives of New York Magazine. Auletta's story wasn't Cuomo's first appearance in the magazine's pages, but that single sentence captured an essential truth about the man — and started to define a complex narrative that would shape three decades of city, state, and national politics. Here are six New York Magazine stories about Mario Cuomo that are worth rereading, plus two rich examples of Cuomo's gift for telling his own story.
"Cuomo and Those Rumors," by Nick Pileggi, November 2, 1987
After losing a bitter mayoral race to Ed Koch in 1977, and then winning a nearly-as-nasty rematch for governor in 1982, Cuomo became a national liberal star. Throughout, however, he was dogged by innuendo about his supposed ties to the Mafia — which were said to be the "real" reason Cuomo announced he wouldn't run for the 1988 Democratic presidential nomination. Nick Pileggi was journalism's preeminent mob expert. The stories Pileggi wrote for New York led to his book Wiseguy, which would become the movie Goodfellas. Now, with his classic Mafia book still on the best-seller lists, Pileggi investigated the swirl of La Costra Nosa rumors around Cuomo. His richly reported cover story, full of details about the brutal beating of Cuomo's father-in-law and the dirty business of political hit jobs — plus great names like "Joey Narrows" — carried enormously high stakes for Mario Cuomo's political future.
"All-Star Family Feud," by Peter Blauner, February 13, 1989
Families can be plenty troublesome even without being criminal. Charles Raffa had arrived from Sicily in 1927 speaking no English. But the industrial supply company he built enabled Raffa to invest in real estate, and when he died in 1988 Raffa left behind a $5 million estate — which set off an ugly fight involving his daughter Matilda, her four siblings, and her husband, Mario, the governor of New York. Peter Blauner's feature story is a meticulous piece of detective work, down to the dubious scrawled codicil to Raffa's will, that also brings home the sad mix of money, ego, and hurt feelings behind the drama. And there's even a cameo appearance by an ex-girlfriend of Andrew Cuomo's.
"The Devil and Mario Cuomo," by Joe Klein, June 25, 1990
Joe Klein and Mario Cuomo were a perfect match of writer and subject. Both street-smart sons of Queens with wide-ranging intellectual appetites, both lovers of fierce political argument, both connoisseurs of dark humor. Klein's novel, Primary Colors, includes a comic, semi-fictional version of Cuomo named Orlando Ozio. But his columns and features about the real thing are no less entertaining, even now, and the arguments Klein and Cuomo had back in the '80s and '90s about the nature of liberal government and personal responsibility reverberate, unsettled, in today's Democratic politics. The dialogue in this column, "The Devil and Mario Cuomo," was imagined, but it nailed the monologue that would play out inside Cuomo's head as the governor agonized over whether to run for president in 1992.
"Is It Time for Him To Go?," by Jacob Weisberg, August 8, 1994
Four years later the jokes about Cuomo weren't so funny. His presidential flirtation had ended very badly, with the governor claiming that budget gamesmanship by state senate Republicans was the reason he'd left a plane idling on the runway instead of flying to New Hampshire to file primary petitions. The state's economy was sputtering, and yet a peevish Cuomo was campaigning for a fourth term in Albany. Jacob Weisberg reviewed the governor's record, as opposed to his rhetoric, and identified the stagnation that would give George Pataki, then a little-known state legislator from Peekskill, the opening to knock off Cuomo as part of the November 1994 Republican electoral wave. How close to the bone was Weisberg's tough cover story? It drew an unusual letter of rebuttal — from the governor's wife, Matilda.
"Keeping the Faith," by Craig Horowitz, April 6, 1998
Cuomo was famous for his ability to hold a grudge, but four years after his defeat he'd apparently forgiven the magazine enough to sit for an interview, with Craig Horowitz, for New York's 30th-anniversary issue. He disavows (unconvincingly) ever having a real desire to run for president. But what's most interesting here is Cuomo's prescience: He spotlights the pernicious growth of what will become known as income inequality, 15 years before Bill de Blasio runs for mayor.
"The Cuomo Family Business," by Steve Fishman, August 1, 2010
Andrew Cuomo blames himself for his father's defeat in 1994. The son had steered the first three successful gubernatorial campaigns, and worked in between as Mario Cuomo's closest Albany adviser and political muscle. But then Andrew struck out on his own, going to Washington to work for Bill Clinton, the Democrat who'd won the presidency in 1992 after Mario demurred. All of which only hints at the many-layered psychodrama between Mario and Andrew, who, in 2010, was trying to complete a political resurrection by winning his father's old job. Steve Fishman got both men to open up about the deeply loving, but also deeply twisted, relationship — including their peculiar period as Albany roommates, and Andrew's priceless explanation of the arrangement: "He was just trying to slow down my bedroom activity."
"Mario Cuomo on an old foe," February 2, 2013
"Mario Cuomo, former governor, b. 1932," April 8, 2013
Mario Cuomo will be remembered — somewhat unfairly — more for what he said than what he did. But he was indeed a beautiful writer and speaker. So it is only appropriate to end with two pieces in his own words. The first settles some political scores with his rival Ed Koch. The second, much sweeter, is a childhood memory that says much about the man Mario Cuomo would become during his 82 years.